USA Wanderung - USA Hike
Bear Cave Trail [Petit Jean State Park]
1. Datenblatt | Data sheet
Bewertung | Rating

US-Bundesstaat | US-State

Arkansas [AR]

Anfahrt | Getting there

PKW | Car

Schwierigkeitsgrad | Difficulty

leicht | easy

Zeitaufwand | Hiking time

max. 1 Stunde

Länge | Distance

0,52 Meilen = 0,83 km

GPS-Koordinaten | GPS-coordinates (WGS84/NAD83)

- Parkplatz und Trailhead (Bear Cave):
- Parkplatz und Trailhead (Seven Hollows Trail):

35°06'53''N - 92°56'40''W
35°06'51''N - 92°56'44''W



Routen und Wegpunkte | Routes and waypoints (*.gpx)


Download *.gpx

Beste Zeit Foto | Best time picture

vormittags oder nachmittags

Mehr Bilder | More images

Bilder | Images

Druckversion (PDF) | Print Version (PDF)

PDF Version

Weitere Varianten | Alternative routes

nicht verfügbar | not available

Wanderungen Brennpunkt | Hiking Hotspot

Hiking Hotspot

Landkarten Navigation | Map Navigation

Map Navigation

Wanderungen US Staat | Hikes by US State

Hikes Arkansas [AR]
---
---
2. Lage | Location
Der Bear Cave Trail liegt im Petit Jean State Park, nordwestlich von Little Rock, Arkansas.
3. Anfahrt | Getting there
Fahren Sie von Little Rock auf der Interstate 40 nach Nordwesten und verlassen Sie die Autobahn bei Morriton nach Süden auf die AR 9. Nachdem Sie den Arkansas River überquert haben, kommen Sie bald nach Oppelo. Biegen Sie hier nach rechts in die AR 154. Folgen Sie dieser Straße auf das Hochplateau der Petit Jean Mountains in den Petit Jean State Park bis zum Parkplatz und Trailhead des Bear Cave Trails (GPS-Koordinaten siehe oben) oder des Seven Hollows Trails (GPS-Koordinaten siehe oben). Letzterer bietet sich an, wenn Sie den Seven Hollows Trail auch gehen. Sind nur ein paar Meter Unterschied!
4. Wanderung | Hike
Vom Parkplatz Seven Hollows Trail nach Nordosten zum Parkplatz Bear Cave Trail; Sie müssen die Straße queren. Gehen Sie von dort nördlich auf dem gut sichtbaren Trail in das Gewirr von Felsenlandschaft, Höhlen, Slots. Der kurze und einfache Hike hat einiges zu bieten und man sollte die Bear Cave und das Eye of the Needle nicht versäumen.
Vielleicht schließen Sie gleich den Trail zu den Cedar Falls und der Rock House Cave an?
5. Topographische Karten | Topographic Maps
TOPO! ©2011 National Geographic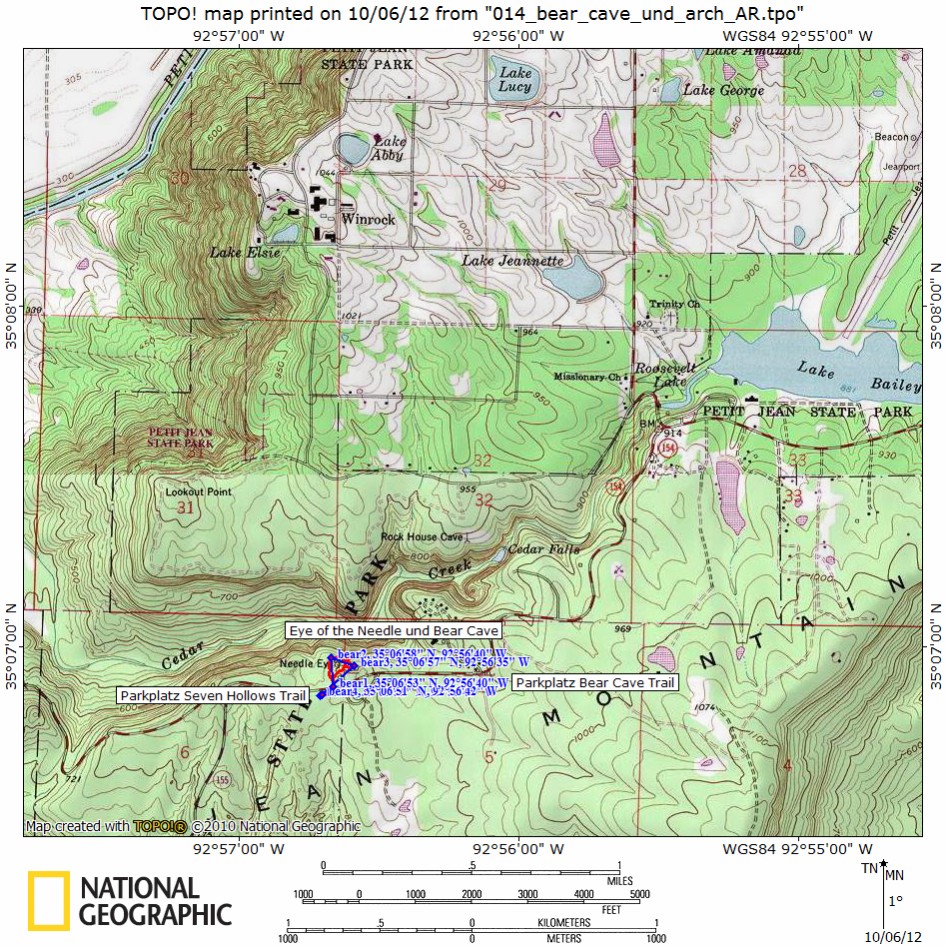 6. Kommentare | Comments
Bitte kommentiere die Wanderung für andere Hiker - danke!
Please write a comment for other hikers - thank you!