USA Wanderung - USA Hike
Castle Trail und Medicine Root Trail [Badlands National Park]
1. Datenblatt | Data sheet
| | |
| --- | --- |
| Bewertung | Rating | |
| US-Bundesstaat | US-State | South Dakota [SD] |
| Anfahrt | Getting there | PKW | Car |
| Schwierigkeitsgrad | Difficulty | mittelschwer | moderate |
| Zeitaufwand | Hiking time | 3 -3,5 Stunden |
| Länge | Distance | 6,71 Meilen = 10,80 km |
| GPS-Koordinaten | GPS-coordinates (WGS84/NAD83) | |
| - Parkplatz und Trailhead (Door and Window Parking Area): | 43°45'36''N - 101°55'41''W |
| Routen und Wegpunkte | Routes and waypoints (*.gpx) | Download *.gpx |
| Beste Zeit Foto | Best time picture | vormittags und nachmittags |
| Mehr Bilder | More images | Bilder | Images |
| Druckversion (PDF) | Print Version (PDF) | PDF Version |
| Weitere Varianten | Alternative routes | nicht verfügbar | not available |
| Wanderungen Brennpunkt | Hiking Hotspot | nicht verfügbar | not available |
| Landkarten Navigation | Map Navigation | Map Navigation |
| Wanderungen US Staat | Hikes by US State | Hikes South Dakota [SD] |
---
---
2. Lage | Location
Die "Door and Window Parking Area" liegt im Badlands National Park, östlich von Rapid City, South Dakota.
3. Anfahrt | Getting there
Fahren Sie von Rapid City auf der Interstate 90 nach Osten und nehmen Sie den Exit 131, Cactus Flat. Fahren Sie die SD 240 nach Süden in den Park (Eintritt) und parken Sie 6,1 Meilen nach der Ausfahrt an der "Door and Window Parking Area". Dieser riesige Parkplatz ist Ihr Trailhead (GPS-Kooordinaten siehe oben).
4. Wanderung | Hike
Der Castle Trail beginnt gegenüber des Parkplatzes auf der anderen Straßenseite.
Der Weg führt mitten durch das Grasland und schlängelt sich sehr bald durch die Steinschlösser, Castles, deren asymmetrische Formen sich wohltuend vom Himmel abzeichnen. Hier ist es sehr schön, was auch daran liegt, dass die Massen vorne am Parkplatz und den anderen Trails, d.h. Overlooks, bleiben.
Nach 1,43 Meilen überqueren Sie eine Dirt Road, die National Park Road, und hier gabelt sich der Weg und kreuzt sich mit dem Medicine Root Trail. Sie nehmen die linke Variante und bleiben auf dem Castle Trail. Eine herrliche Felsenlandschaft begleitet Sie. Immer wieder bleiben Sie stehen, genießen hoffentlich die Sonne und die Natur. Nach 3,17 Meilen erreichen Sie erneut den Medicine Root Trail, dem Sie jetzt nach rechts weiter folgen. Hier befindet sich sozusagen der Umkehrpunkt der Wanderung. Abseits der Sandberge führt der Weg nun durch die Prärie. Rechts die zackigen Hügel, links Grasland soweit das Auge reicht und der Höhenunterschied es zulässt.
Der mit roten Stangen markierte Castle Trail kommt erneut in Sicht. Sie tauchen erneut in die Castles ein und sind nach 6,71 Meilen zurück am Auto. Ein sehr schöner Hike findet sein Ende.
5. Topographische Karten | Topographic Maps
TOPO! ©2011 National Geographic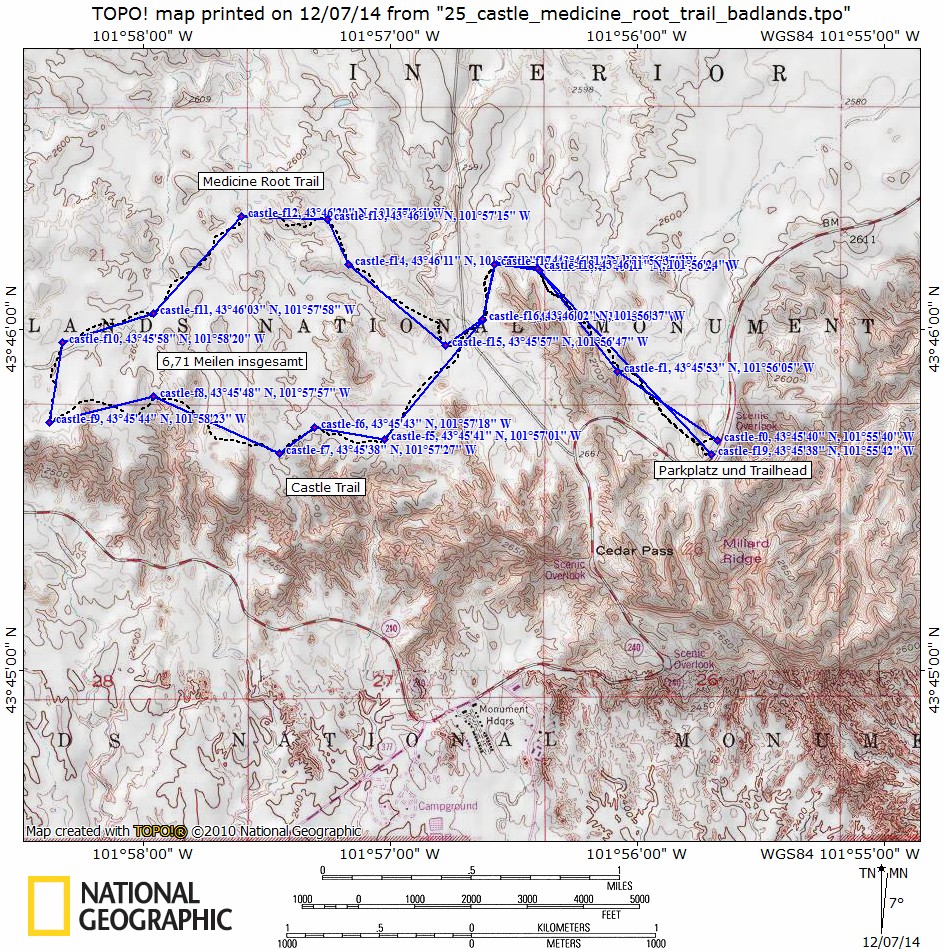 6. Kommentare | Comments
Bitte kommentiere die Wanderung für andere Hiker - danke!
Please write a comment for other hikers - thank you!