USA Wanderung - USA Hike
Ephemeral Arch [fallen]
Am 26.5.2010 ist der Ephemeral Arch leider zusammengebrochen!
1. Datenblatt | Data sheet
Bewertung | Rating

US-Bundesstaat | US-State

Nevada [NV]

Anfahrt | Getting there

PKW | Car

Schwierigkeitsgrad | Difficulty

leicht | easy

Zeitaufwand | Hiking time

2 - 3 Stunden

Länge | Distance

2,1 Meilen = 3,38 km

GPS-Koordinaten | GPS-coordinates (WGS84/NAD83)

- Trailhead:
- Ephemeral Arch:
36°25'47''N - 114°28'53''W
36°26'26''N - 114°28'50''W



Routen und Wegpunkte | Routes and waypoints (*.gpx)


Download *.gpx

Beste Zeit Foto | Best time picture

nachmittags

Mehr Bilder | More images

Bilder | Images

Druckversion (PDF) | Print Version (PDF)

PDF Version

Weitere Varianten | Alternative routes

nicht verfügbar | not available

Wanderungen Brennpunkt | Hiking Hotspot

Hiking Hotspot

Landkarten Navigation | Map Navigation

Map Navigation

Wanderungen US Staat | Hikes by US State

Hikes Nevada [NV]
---
---
2. Lage | Location
Der Ephemeral Arch liegt im Valley of Fire State Park, nahe Las Vegas, in Nevada.
3. Anfahrt | Getting there
Von Las Vegas fährt man 35 Meilen (56,3 km) auf der Interstate 15 nach Nordosten in Richtung Salt Lake City. Am Exit 75 verlassen sie die Interstate und fahren weitere 12,18 Meilen (19,6 km) nach Südosten den Valley of Fire Highway 169 zum State Park. Versorgen sie sich am Parkeingang, an dem sie auch den Eintritt zahlen, mit einer Karte (wird umsonst vom Ranger ausgegeben) und steuern sie den Parkplatz The Cabins an. Dieser Parkplatz ist gleichzeitig der Trailhead.
4. Wanderung | Hike
Beim Damenklo (ist ernst gemeint!) links vorbei, den höchsten Hügelrücken ansteuern und dann geht's beim 2. Einschnitt relativ moderat zirka 15 Meter hinunter. Diese kleine Furt wandern sie bis zur großen Sandfurt, genannt North Fork, der sie dann zirka 1,5 Kilometer nach Norden (links) folgen. Es empfiehlt sich, insbesondere in den Sommermonaten, genügend Wasser mitzunehmen.
Der weichen Sandpiste können sie teilweise ausweichen, da am Rand ab und zu fester Boden existiert, der weit einfacher zu begehen ist. Nach zirka 35 Minuten sind sie da und das Ziel lohnt; ganz abgesehen davon, dass sie auf der Wanderung kaum eine Menschenseele treffen werden. Wie gut das tut, nach der Hektik in Las Vegas! Links und rechts des Weges kann man immer wieder kleine Bögen und Löcher erkennen. Ein richtiges Archgebiet ist das.
Aber aufgepasst. Der Ephemeral-Arch ist leicht zu übersehen, da er rechts oben, in zirka 5 Meter Höhe thront. Zudem ist er nur beim Zurückschauen erkennbar. Und beeilt Euch, denn wie ihr sehen könnt, steht der wunderschöne Arch auf sehr wackeligen Beinen.
5. Topographische Karten | Topographic Maps
TOPO! ©2011 National Geographic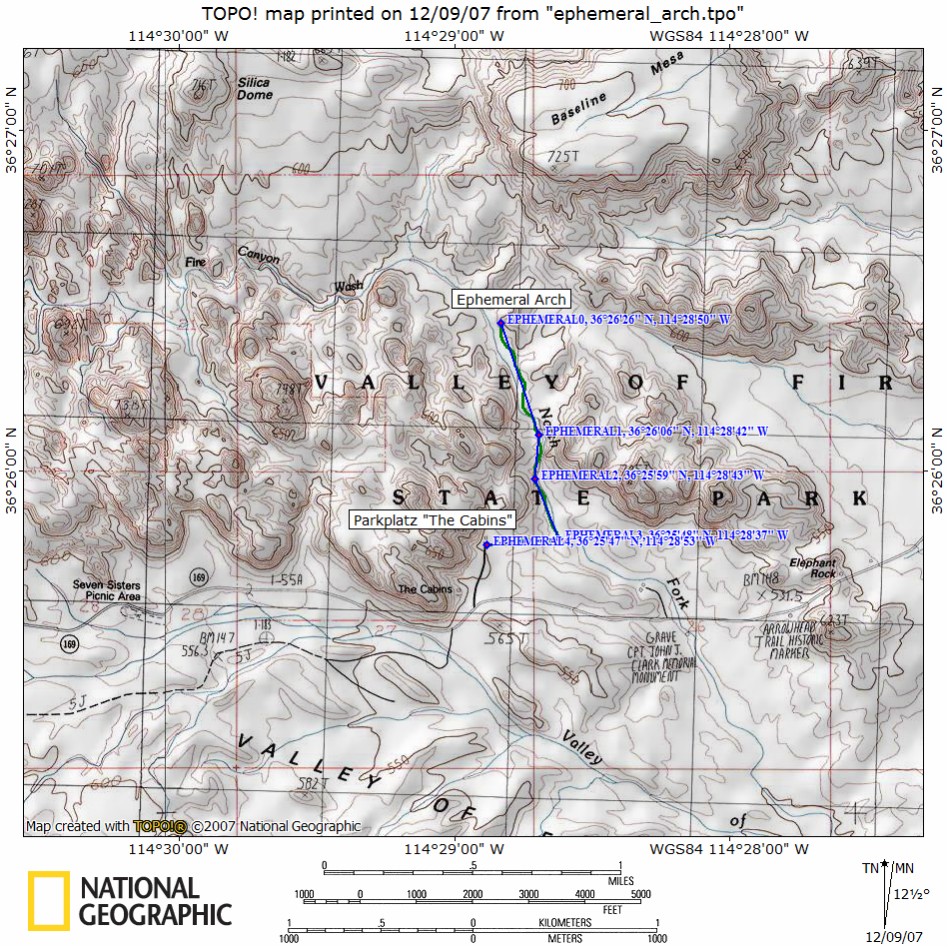 6. Kommentare | Comments
Bitte kommentiere die Wanderung für andere Hiker - danke!
Please write a comment for other hikers - thank you!