USA Wanderung - USA Hike
Dutchmans Trail - Eye of the Horse [Superstition Mountains]
1. Datenblatt | Data sheet
Bewertung | Rating

US-Bundesstaat | US-State

Arizona [AZ]

Anfahrt | Getting there

PKW | Car

Schwierigkeitsgrad | Difficulty

mittelschwer | moderate

Zeitaufwand | Hiking time

4,5 - 5,5 Stunden

Länge | Distance

9,92 Meilen = 15,96 km

GPS-Koordinaten | GPS-coordinates (WGS84/NAD83)

- Parkplatz und Trailhead:
- Viewpoint Eye of the Horse:
33°28'48''N - 111°26'35''W
33°27'00''N - 111°23'14''W



Routen und Wegpunkte | Routes and waypoints (*.gpx)


Download *.gpx

Beste Zeit Foto | Best time picture

vormittags oder nachmittags

Mehr Bilder | More images

Bilder | Images
Bilder | Images

Druckversion (PDF) | Print Version (PDF)

PDF Version

Weitere Varianten | Alternative routes

nicht verfügbar | not available

Wanderungen Brennpunkt | Hiking Hotspot

Hiking Hotspot

Landkarten Navigation | Map Navigation

Map Navigation

Wanderungen US Staat | Hikes by US State

Hikes Arizona [AZ]
---
---
2. Lage | Location
Das Eye of the Horse liegt östlich von Phoenix/Scottsdale, nordöstlich von Apache Junction in den Superstition Mountains, Arizona.
3. Anfahrt | Getting there
Sie fahren die Interstate 202-Loop bis zur Ausfahrt East Brown Road, fahren Sie diese Straße nach Osten. Sie wird in Apache Junction zum Lost Dutchman Boulevard. Biegen Sie am Ende dieser Straße nach links in den Apache Trail ab. Fahren Sie nun 3,3 Meilen und biegen Sie dann nach dem Lost Dutchman State Park nach rechts in die First Water Road ab. Fahren diese ungeteerte, jedoch in der Regel gute Dirtroad 2,6 Meilen bis zum Parkplatz und Trailhead (GPS-Koordinaten siehe oben).
4. Wanderung | Hike
Der Dutchmans Trail mit der Nummer 104 führt Sie sehr eben nach Südosten ein Stück am Bach entlang, einige Querungen sind dank der großen oder viel mehr hohen Steine ohne nasse Füße gut zu meistern. Doch bald weitet sich der Blick und die hellgelben, mit hellgrünen Flechten bewachsenen Felsen sind eine wahre Farbenpracht. Ein freundliches Gebirge, es wirkt weder bedrohlich, noch gefährlich. Gelbe Felsquader in der grünen Ebene lassen jedoch erahnen, dass von oben doch ab und zu etwas zu erwarten ist. Weit hinten rückt, nachdem Sie die Kreuzung mit dem Black Mesa Trail passiert haben, ein Felsenkoloss in den Fokus, der gigantisch in die Höhe ragt. Aus schroffem Gestein suggeriert er, dass er auch in Berchtesgaden am Königssee stehen könnte.
Als Sie nach rechts in den Boulder Canyon einstechen, wandelt sich das Bild erneut. Saguaros kleben förmlich an den steilen Wänden, die die Flanken der Black Top Mesa bilden. Hellgrünes Moos sorgt dafür, dass das notwendige Wasser gut gespeichert und bei Bedarf zur Verfügung gestellt wird. Nach rund zwei Stunden erblicken Sie rechts das Eye of the Horse. Sehr weit oben öffnet sich das Auge, ein überdimensionales Pferd ist nicht zu entdecken (GPS-Koordinaten siehe oben).
Diese durchweg flache Wanderung ist lang, aber die Superstition Mountains sind einfach ein tolles Wandergebiet! Ausprobieren!
5. Topographische Karten | Topographic Maps
TOPO! ©2011 National Geographic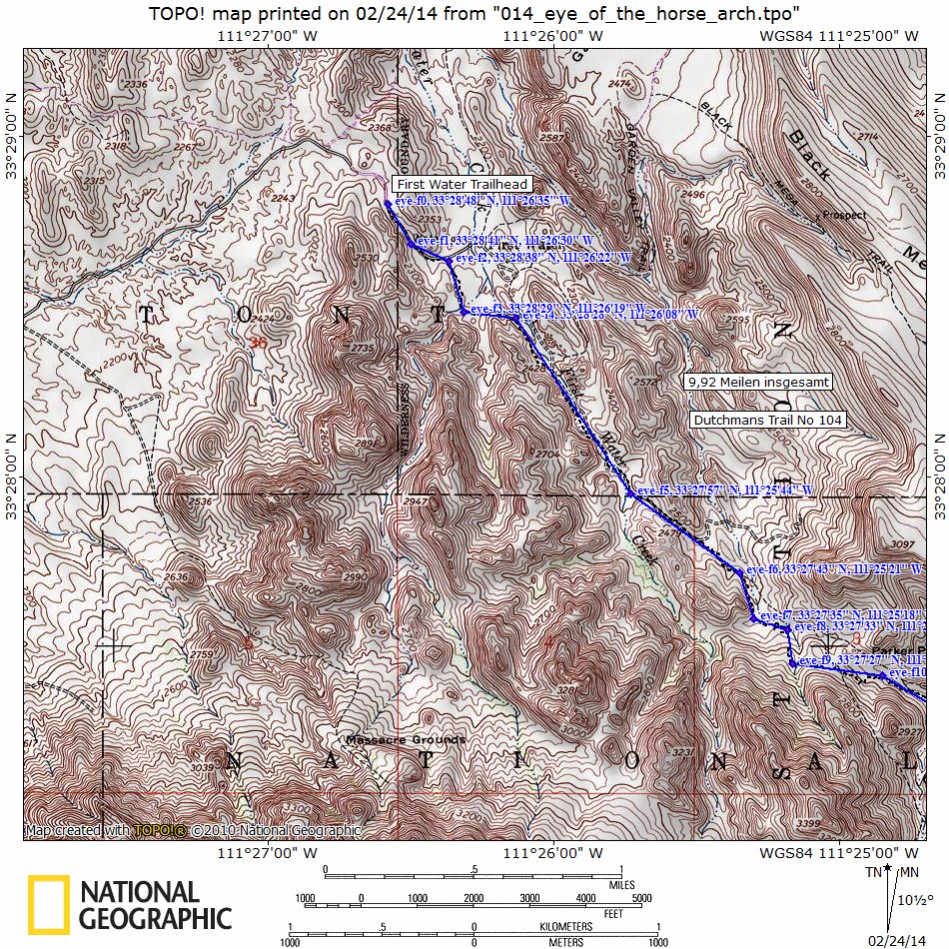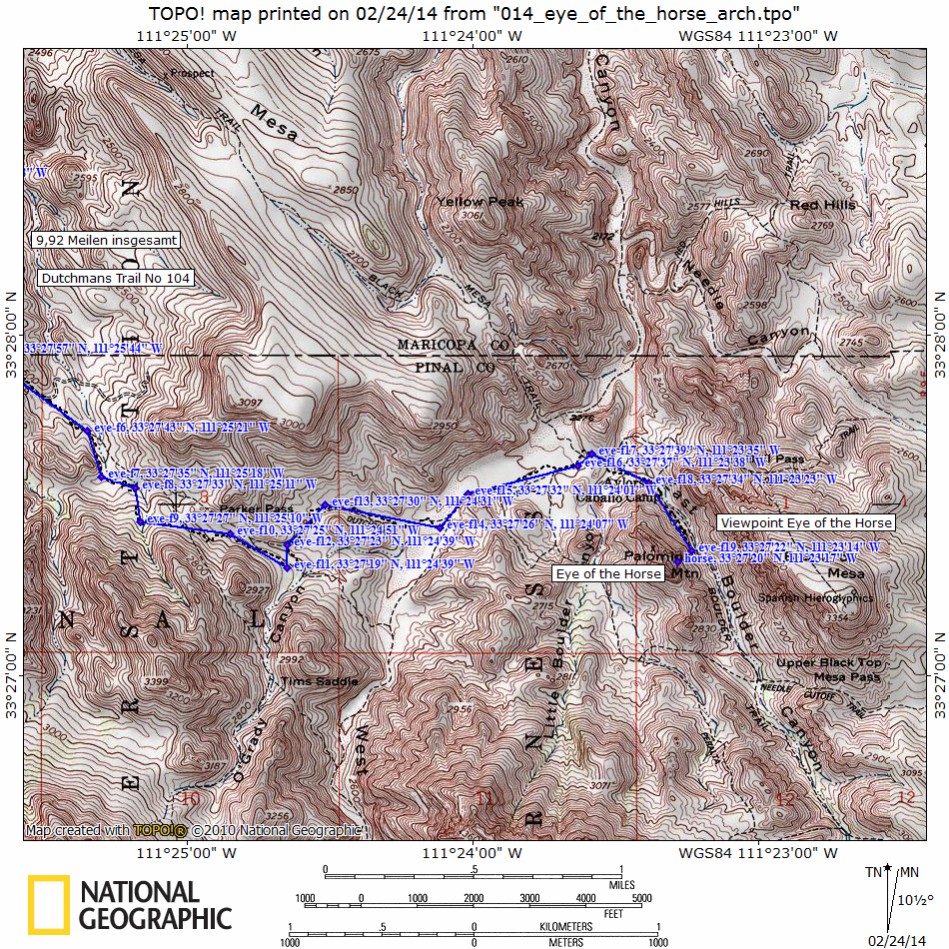 6. Kommentare | Comments
Bitte kommentiere die Wanderung für andere Hiker - danke!
Please write a comment for other hikers - thank you!