USA Wanderung - USA Hike
Wind Caves [Gaviota State Park]
1. Datenblatt | Data sheet
| | |
| --- | --- |
| Bewertung | Rating | |
| US-Bundesstaat | US-State | Kalifornien / California [CA] |
| Anfahrt | Getting there | PKW | Car |
| Schwierigkeitsgrad | Difficulty | mittelschwer | moderate |
| Zeitaufwand | Hiking time | 2 - 2,5 Stunden |
| Länge | Distance | 2,58 Meilen = 4,15 km |
| GPS-Koordinaten | GPS-coordinates (WGS84/NAD83) | |
| - Parkplatz und Trailhead: | 34°28'18''N - 120°13'47''W |
| Routen und Wegpunkte | Routes and waypoints (*.gpx) | Download *.gpx |
| Beste Zeit Foto | Best time picture | vormittags oder nachmittags |
| Mehr Bilder | More images | Bilder | Images |
| Druckversion (PDF) | Print Version (PDF) | PDF Version |
| Weitere Varianten | Alternative routes | nicht verfügbar | not available |
| Wanderungen Brennpunkt | Hiking Hotspot | Hiking Hotspot |
| Landkarten Navigation | Map Navigation | Map Navigation |
| Wanderungen US Staat | Hikes by US State | Hikes Kalifornien / California [CA] |
---
---
2. Lage | Location
Der Gaviota State Park liegt direkt neben der US 101, westlich von Santa Barbara, Kalifornien.
3. Anfahrt | Getting there
Fahren Sie von Santa Barbara auf der US 101 Nord rund 35 Meilen nach Westen bis zur Abzweigung nach links in die Gaviota Beach Road. Folgen Sie dieser Straße bis kurz vor den Parkeingang und nehmen Sie vorher die Hollister Ranch Road nach rechts zum Parkplatz und Trailhead (GPS-Koordinaten siehe oben).
4. Wanderung | Hike
Der Beach to Backcountry Trail beginnt an einem Gatter, links steht ein Schild, auf dem vor Mountain Lions gewarnt wird.
Folgen Sie der geteerten Straße nach Norden. Oben links sehen Sie bereits schöne Felsformationen, die Ihr Ziel sind. Nach 0,58 Meilen geht ein Trail nach links oben ab, der zwischendurch auch ziemlich steil ist. Nach 0,78 Meilen sind Sie an einem Viewpoint, der sowohl einen Blick auf interessante Felsstrukturen, als auch auf die Küstenlinie freigibt. Achtung, hier gibt es Klapperschlangen!
Nach gut einer Meile sind Sie an der ersten Wind Cave, die ein dreifacher Arch ist. Steigen Sie durch die schön gefärbten Felsen. Bald sind Sie an der zweiten Cave. Rechts oben wacht das Eye of Gaviota. Sie steigen links von der Felsformation zur Rückseite auf. Der Weg ist etwas steil, führt teilweise durch Sträucher, aber er lohnt. Nach 1,3 Meilen können Sie das Auge nutzen, um dem herrlichen Rundblick einen Rahmen zu verleihen. Ein wirklich schönes Gebiet, ein wirklich schöner Hike.
5. Topographische Karten | Topographic Maps
TOPO! ©2011 National Geographic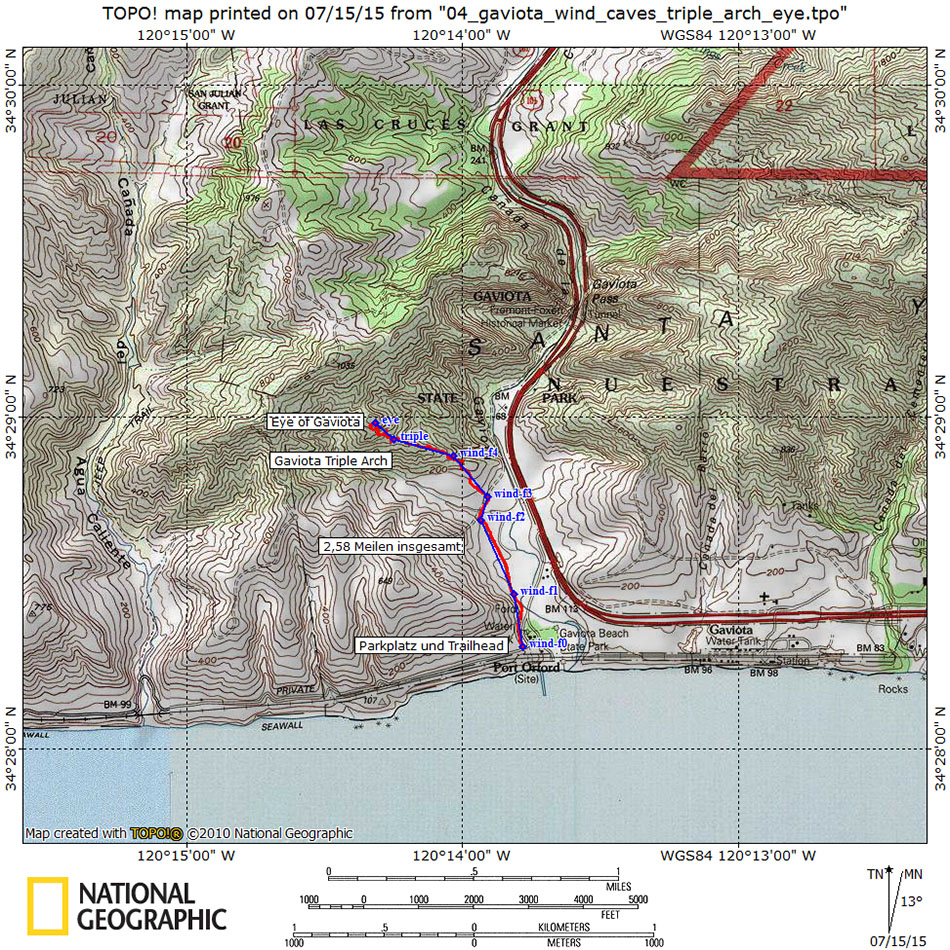 6. Kommentare | Comments
Bitte kommentiere die Wanderung für andere Hiker - danke!
Please write a comment for other hikers - thank you!