USA Wanderung - USA Hike
Holei Sea Arch [Big Island - Hawaii]
1. Datenblatt | Data sheet
Bewertung | Rating

US-Bundesstaat | US-State

Hawaii [HI]

Anfahrt | Getting there

PKW | Car

Schwierigkeitsgrad | Difficulty

leicht | easy

Zeitaufwand | Hiking time

keine halbe Stunde

Länge | Distance

0,38 Meilen = 0,61 km

GPS-Koordinaten | GPS-coordinates (WGS84/NAD83)

- Parkplatz und Trailhead:
- Holei Sea Arch:
19°17'41''N - 155°05'57''W
19°17'40''N - 155°05'53''W



Routen und Wegpunkte | Routes and waypoints (*.gpx)


Download *.gpx

Beste Zeit Foto | Best time picture

vormittags oder nachmittags

Mehr Bilder | More images

Bilder | Images

Druckversion (PDF) | Print Version (PDF)

PDF Version

Weitere Varianten | Alternative routes

nicht verfügbar | not available

Wanderungen Brennpunkt | Hiking Hotspot

nicht verfügbar | not available

Landkarten Navigation | Map Navigation

Map Navigation

Wanderungen US Staat | Hikes by US State

Hikes Hawaii [HI]
---
---
2. Lage | Location
Der Holei Sea Arch liegt im Volcanoes National Park, am Ende der Chain of Craters Road, Big Island, Hawaii.
3. Anfahrt | Getting there
Fahren Sie die Hawaiian Belt Road, Highway 11, bis zum Hawaii Volcanoes National Park. Biegen Sie nach der Zufahrt beim Park Head Quarter nach 0,35 Meilen nach links in den Crater Rim Drive ein. Folgen Sie dem Crater Rim Drive zirka 3,5 Meilen und biegen Sie dann nach links in die Chain of Craters Road ab. Folgen Sie dieser Straße bis zum Ende und parken Sie Ihr Auto an der Straße. Das ist gleichzeitig Ihr Trailhead (GPS-Koordinaten siehe oben).
4. Wanderung | Hike
Sie gehen über Lava auf die Steilküste zu und hier steht er bereits, der Holei Sea Arch (GPS-Koordinaten siehe oben). Der dunkle Felsen hängt sich an einer steilen Lavaklippe ins Meer. Ein sehr schöner, großer Steinbogen.
5. Topographische Karten | Topographic Maps
TOPO! ©2011 National Geographic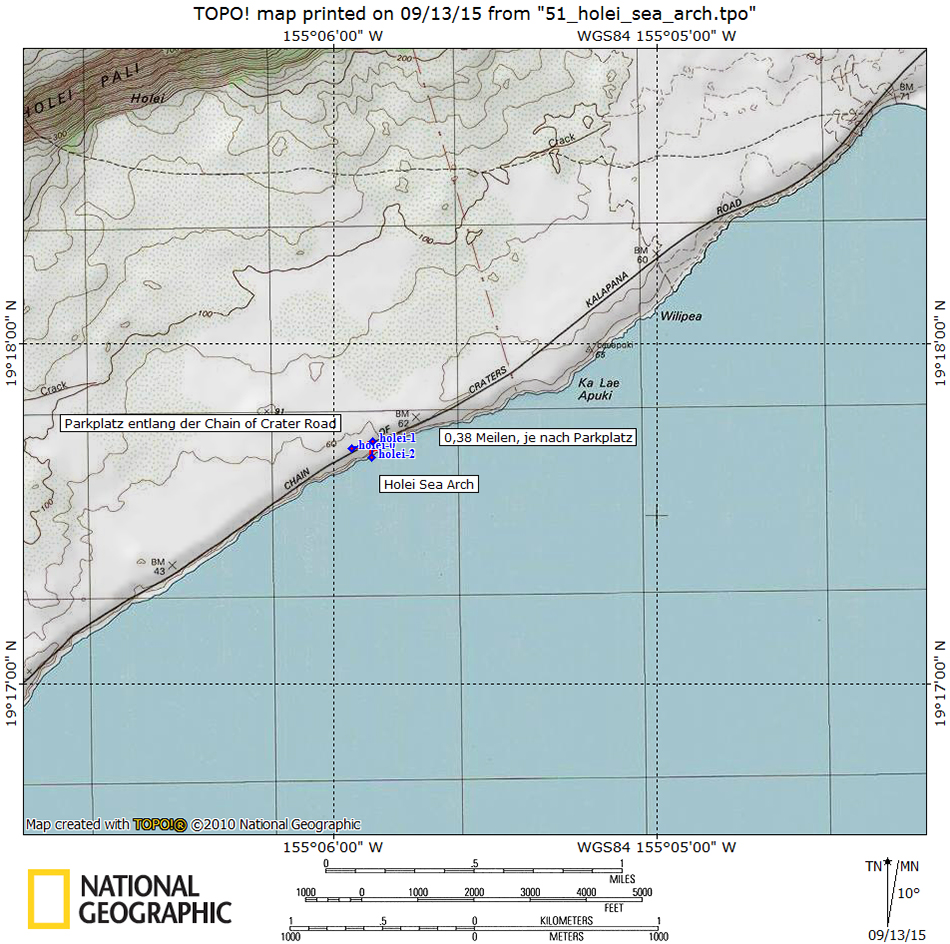 6. Kommentare | Comments
Bitte kommentiere die Wanderung für andere Hiker - danke!
Please write a comment for other hikers - thank you!