USA Wanderung - USA Hike
Markers Arch
1. Datenblatt | Data sheet
Bewertung | Rating

US-Bundesstaat | US-State

Kentucky [KY]

Anfahrt | Getting there

PKW | Car

Schwierigkeitsgrad | Difficulty

leicht | easy

Zeitaufwand | Hiking time

keine Stunde

Länge | Distance

0,82 Meilen = 1,32 km

GPS-Koordinaten | GPS-coordinates (WGS84/NAD83)

- Pullout (MM 2 u. 3) und Trailhead:
- Markers Arch:
36°45'23''N - 84°30'43''W
36°45'37''N - 84°30'32''W



Routen und Wegpunkte | Routes and waypoints (*.gpx)


Download *.gpx

Beste Zeit Foto | Best time picture

ganztags

Mehr Bilder | More images

Bilder | Images

Druckversion (PDF) | Print Version (PDF)

PDF Version

Weitere Varianten | Alternative routes

nicht verfügbar | not available

Wanderungen Brennpunkt | Hiking Hotspot

Hiking Hotspot

Landkarten Navigation | Map Navigation

Map Navigation

Wanderungen US Staat | Hikes by US State

Hikes Kentucky [KY]
---
---
2. Lage | Location
Der Markers Arch liegt westlich von Williamsburg in der Big South Fork National River and Recreation Area, im Daniel Boon National Forest, Kentucky.
3. Anfahrt | Getting there
Fahren Sie von Williamsburg auf der KY 92 nach Westen, dann auf der KY 27 nach Norden und nehmen Sie dann die Straße 700 nach links. Folgen Sie der 700 knapp 3 Meilen nach Westen. Zwischen den Milemarkern 2 und 3 befindet sich ein kleiner Pullout (GPS-Koordinaten siehe oben). Parken Sie Ihr Auto, das ist Ihr Trailhead.
4. Wanderung | Hike
Auf einem Schild steht zwar Yahoo Falls and Trail, aber Sie sind schon richtig, denn kurz danach geht nach rechts der Trail 602 ab. Leider ist der Trail 602 weder benutzt, noch gepflegt. Und so gilt es, ein paar umgefallene Bäume und bodenbedeckende Sträucher zu übersteigen. Aber es ist nur knapp eine halbe Meile und noch bevor sich der Weg in den Canyon stürzt, steht das Eingangstor in Form des Markers Arch (GPS-Koordinaten siehe oben).
5. Topographische Karten | Topographic Maps
TOPO! ©2011 National Geographic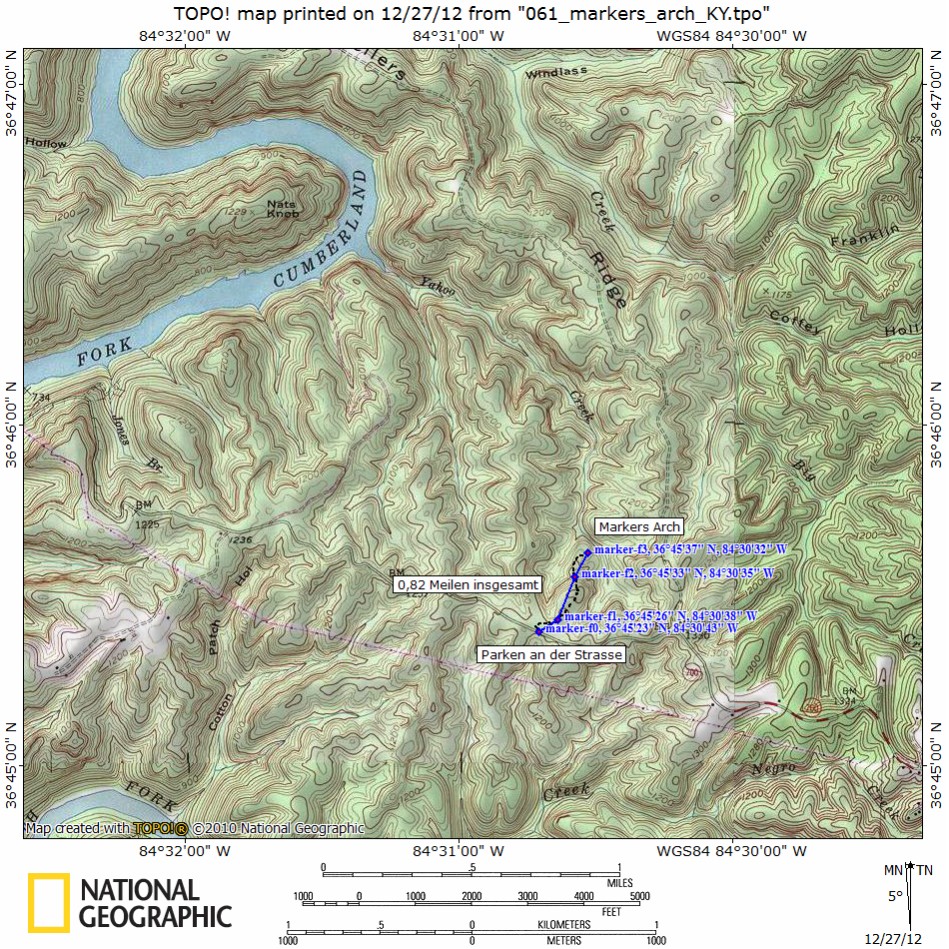 6. Kommentare | Comments
Bitte kommentiere die Wanderung für andere Hiker - danke!
Please write a comment for other hikers - thank you!