USA Wanderung - USA Hike
Natural Bridge of Alabama
1. Datenblatt | Data sheet
Bewertung | Rating

US-Bundesstaat | US-State

Alabama [AL]

Anfahrt | Getting there

PKW | Car

Schwierigkeitsgrad | Difficulty

leicht | easy

Zeitaufwand | Hiking time

max 1 Stunde

Länge | Distance

0,26 Meilen = 0,42 km

GPS-Koordinaten | GPS-coordinates (WGS84/NAD83)

- Parkplatz und Trailhead:
- Natural Bridge of Alabama:
34°05'36''N - 87°36'53''W
34°05'32''N - 87°36'51''W



Routen und Wegpunkte | Routes and waypoints (*.gpx)


Download *.gpx

Beste Zeit Foto | Best time picture

vormittags

Mehr Bilder | More images

Bilder | Images

Druckversion (PDF) | Print Version (PDF)

PDF Version

Weitere Varianten | Alternative routes

nicht verfügbar | not available

Wanderungen Brennpunkt | Hiking Hotspot

Hiking Hotspot

Landkarten Navigation | Map Navigation

Map Navigation

Wanderungen US Staat | Hikes by US State

Hikes Alabama [AL]
---
---
2. Lage | Location
Die Natural Bridge of Alabama liegt südwestlich von Decatur (man spricht es übrigens "dekayder"), nahe des Ortes Natural Bridge, Alabama.
3. Anfahrt | Getting there
Fahren Sie von Decatur nach Süden auf der Danville Road und dann auf der CR 41 weiter bis zur AL 278, auf der Sie bis zum Ort Natural Bridge bleiben. Zirka eine Meile dannach geht es rechts zur Natural Bridge of Alabama, zum Parkplatz und Trailhead (GPS-Koordinaten siehe oben). Insgesamt sind es gut 62 Meilen von Decatur. Ein altes Ehepaar, sozusagen die Bridge-Keeper, erwartet Sie schon und hätte ein paar nette Geschichten zu erzählen. Entrichten Sie Ihren Obolus (2012 = 2,50 USD) und spazieren Sie los .
4. Wanderung | Hike
Vom Parkplatz geht es in einen Seitenarm des New River. Um die Ecke praktisch und schon baut sich diese gewaltige Brücke über Ihnen auf. Mehrere Öffnungen lassen das Licht in die Dunkelheit. Echt stark, diese Natural Bridge of Alabama (GPS-Koordinaten siehe oben). Über einen gut sichtbaren Loop kommen Sie wieder zurück. Ein kleiner Spaziergang, der sich gelohnt hat.
5. Topographische Karten | Topographic Maps
TOPO! ©2011 National Geographic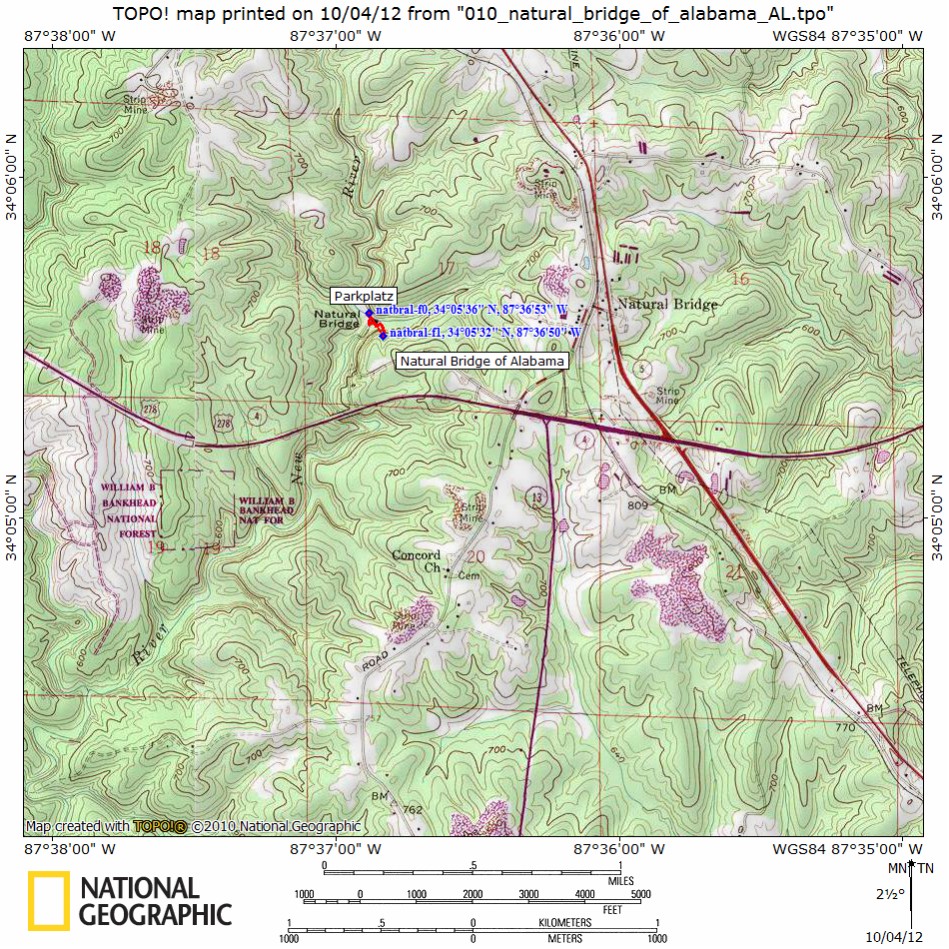 6. Kommentare | Comments
Bitte kommentiere die Wanderung für andere Hiker - danke!
Please write a comment for other hikers - thank you!