USA Wanderung - USA Hike
Natural Bridge of Kentucky [Original Trail und Battleship Rock Trail]
1. Datenblatt | Data sheet
Bewertung | Rating

US-Bundesstaat | US-State

Kentucky [KY]

Anfahrt | Getting there

PKW | Car

Schwierigkeitsgrad | Difficulty

mittelschwer | moderate

Zeitaufwand | Hiking time

1,5 bis 2 Stunden

Länge | Distance

1,87 Meilen = 3,01 km

GPS-Koordinaten | GPS-coordinates (WGS84/NAD83)

- Parkplatz und Trailhead:
- Natural Bridge of Kentucky:
37°46'32''N - 84°40'40''W
37°46'23''N - 83°41'08''W



Routen und Wegpunkte | Routes and waypoints (*.gpx)


Download *.gpx

Beste Zeit Foto | Best time picture

vormittags oder nachmittags

Mehr Bilder | More images

Bilder | Images

Druckversion (PDF) | Print Version (PDF)

PDF Version

Weitere Varianten | Alternative routes

nicht verfügbar | not available

Wanderungen Brennpunkt | Hiking Hotspot

Hiking Hotspot

Landkarten Navigation | Map Navigation

Map Navigation

Wanderungen US Staat | Hikes by US State

Hikes Kentucky [KY]
---
---
2. Lage | Location
Die Natural Bridge of Kentucky liegt südöstlich von Lexington und Winchester, im Daniel Boone National Forest, südlich von Slade, im Natural Bridge State Park, Kentucky.
3. Anfahrt | Getting there
Fahren Sie von Winchester auf dem Bert T Combs Mountain Parkway, der wie eine Interstate ausgebaut ist, bis zur Ausfahrt bei Slade. Nehmen Sie die KY 11 nach Süden bis zum Natural Bridge State Park und fahren Sie dann auf den Parkplatz und Trailhead (GPS-Koordinaten siehe oben).
4. Wanderung | Hike
Und der Trail geht auch gleich mal an einem kleinen Stausee los, der zum Schwimmbad umgebaut ist. Das Wandern ist des Müllers Lust, also kostenfrei, und so machen Sie sich auf dem Original Trail auf in die Höhe. Ein schattiger Waldweg führt Sie (vermutlich) gemeinsam mit anderen Hikern im Wald nach oben. Der geneigte Wanderer im Voralpenland ist oft einer deprimierenden Situation ausgesetzt. Mit letzter Kraft kommst du oben am Gipfel an und dann stehen sie in Stöckelschuhen da, die Mädels, die eine Gondel oder ein Lift nach oben gebracht hat. Déjà-vu: Alles ist hier oben, was Rang und Namen hat. Herzlich willkommen an der Natural Bridge of Kentucky (GPS-Koordinaten siehe oben), die man auch über einen Lift erreichen kann. Die Brücke ist gigantisch und ein toller Felsbogen. Fotos ohne Menschen sind aber eher dem Glück, mindestens aber viel Geduld zu verdanken. Sie durchschreiten das Felsentor und umgehen es nach links. Dort führt ein sehr schmaler Spalt nach oben. Wie eine Autobahn, na sagen wir fast, so breit zeigt sich der Rücken des Ungetüms. Sie überqueren die Brücke und sehen Kentucky soweit das Auge reicht.
Sie wollen dem Trubel etwas entfliehen und machen sich auf einen anderen Rückweg. Gehen Sie einfach weiter, Sie sind jetzt auf dem Battleship Rock Trail. Es geht an einer tollen Felsenwand entlang und durch dicht bewachsene Vegetation nach unten. Nach insgesamt 1,87 Meilen sind Sie wieder am Auto.
5. Topographische Karten | Topographic Maps
TOPO! ©2011 National Geographic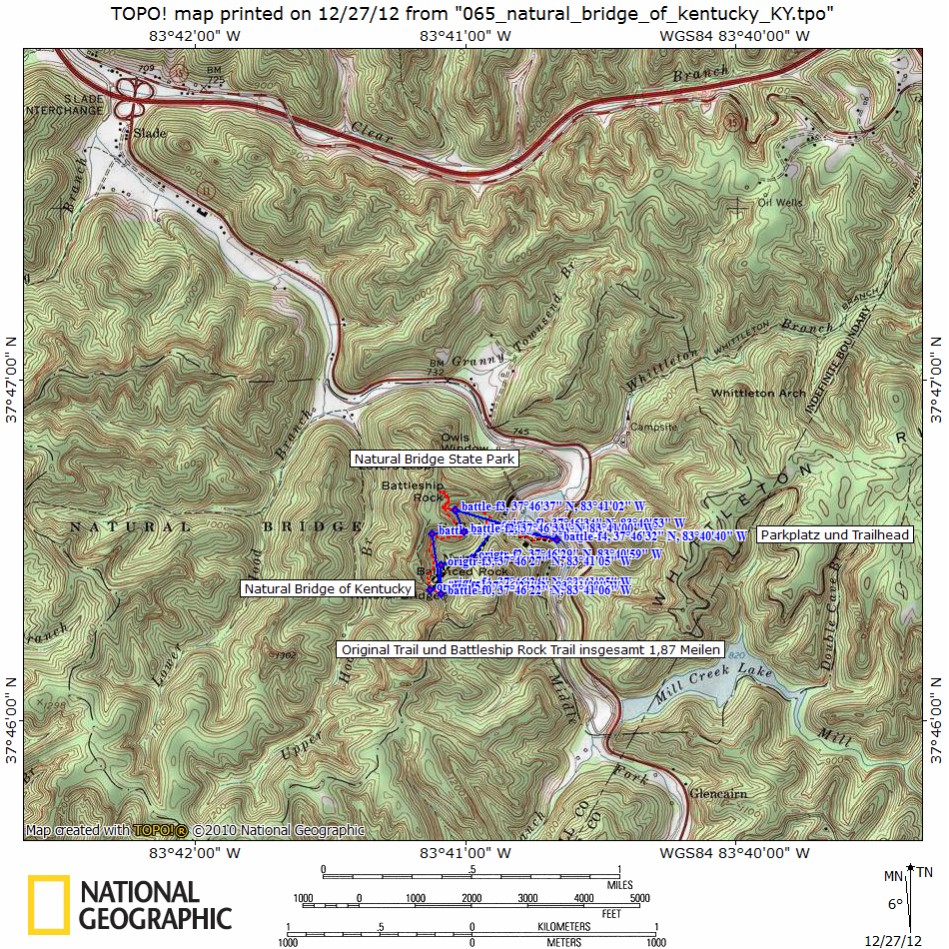 6. Kommentare | Comments
Bitte kommentiere die Wanderung für andere Hiker - danke!
Please write a comment for other hikers - thank you!