USA Wanderung - USA Hike
Oak Flat Trail [Black Canyon of the Gunnison National Park]
1. Datenblatt | Data sheet
| | |
| --- | --- |
| Bewertung | Rating | |
| US-Bundesstaat | US-State | Colorado [CO] |
| Anfahrt | Getting there | PKW | Car |
| Schwierigkeitsgrad | Difficulty | leicht | easy |
| Zeitaufwand | Hiking time | 1 Stunde |
| Länge | Distance | 1,33 Meilen = 2,14 km |
| GPS-Koordinaten | GPS-coordinates (WGS84/NAD83) | |
| - Parkplatz und Trailhead am Visitor Center: | 38°33'18''N - 107°41'13''W |
| Routen und Wegpunkte | Routes and waypoints (*.gpx) | Download *.gpx |
| Beste Zeit Foto | Best time picture | vormittags bis mittags |
| Mehr Bilder | More images | Bilder | Images |
| Druckversion (PDF) | Print Version (PDF) | PDF Version |
| Weitere Varianten | Alternative routes | nicht verfügbar | not available |
| Wanderungen Brennpunkt | Hiking Hotspot | nicht verfügbar | not available |
| Landkarten Navigation | Map Navigation | Map Navigation |
| Wanderungen US Staat | Hikes by US State | Hikes Colorado [CO] |
---
---
2. Lage | Location
Der Black Canyon of the Gunnison National Park liegt westlich von Gunnison, südöstlich von Delta und östlich von Montrose in Colorado.
3. Anfahrt | Getting there
Fahren Sie auf der US 50 bis zur Abzweigung der CO 347 und folgen Sie dieser Straße 7 Meilen bis zum Visitor Center des Black Canyon of the Gunnison Nationalparks, das gleichzeitig der Trailhead ist (GPS-Koordinaten siehe oben).
4. Wanderung | Hike
Gleich hinter dem Visitor Center geht es zum Gunnison Point Overlook. Ein toller erster Einblick in diese gewaltige Schlucht. Die schwarz-grauen Canyonwände ziehen sich unglaublich in die Tiefe. Und hier beginnt auch der Oak Flat Trail. Durch Eichen führt der Weg am Canyonrand entlang. Es gäbe einen Trail hinunter zum Gunnison River, dafür benötigt man jedoch eine Permit. Ihr Weg gibt ein paar schöne Blicke in den Canyon und auf die Berge frei.
5. Topographische Karten | Topographic Maps
TOPO! ©2011 National Geographic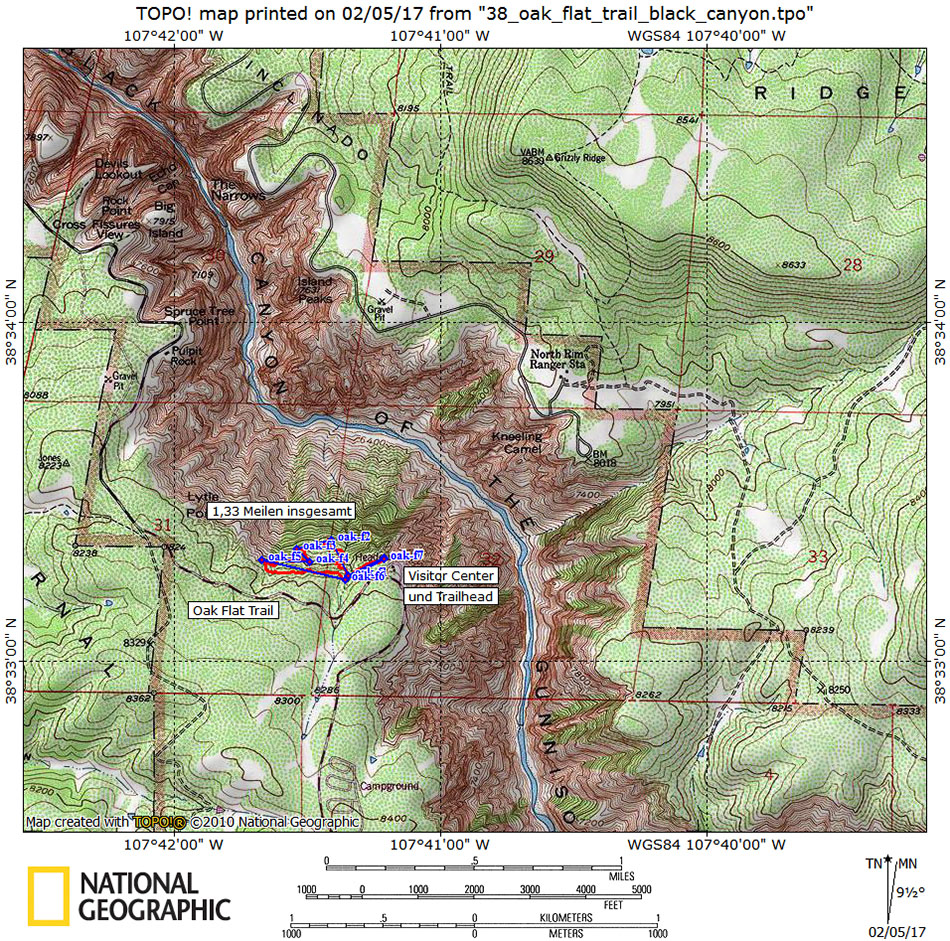 6. Kommentare | Comments
Bitte kommentiere die Wanderung für andere Hiker - danke!
Please write a comment for other hikers - thank you!