USA Wanderung - USA Hike
Pillars of Hercules [Moenkopi Wash]
1. Datenblatt | Data sheet
Bewertung | Rating

US-Bundesstaat | US-State

Arizona [AZ]

Anfahrt | Getting there

Hohe Bodenfreiheit | High Clearance

Schwierigkeitsgrad | Difficulty

mittelschwer | moderate

Zeitaufwand | Hiking time

1 - 1,5 Stunden

Länge | Distance

0,92 Meilen = 1,48 km

GPS-Koordinaten | GPS-coordinates (WGS84/NAD83)

- Abzweigung 160er:
- Abzweigung 264er:
- Parkplatz und Trailhead:
- Pillars of Hercules:
36°19'19''N - 110°56'23''W
35°58'16''N - 110°49'47''W
36°09'31''N - 110°51'21''W
36°09'16''N - 110°51'35''W



Routen und Wegpunkte | Routes and waypoints (*.gpx)


Download *.gpx

Beste Zeit Foto | Best time picture

nachmittags oder vormittags

Mehr Bilder | More images

Bilder | Images

Druckversion (PDF) | Print Version (PDF)

PDF Version

Weitere Varianten | Alternative routes

nicht verfügbar | not available

Wanderungen Brennpunkt | Hiking Hotspot

nicht verfügbar | not available

Landkarten Navigation | Map Navigation

Map Navigation

Wanderungen US Staat | Hikes by US State

Hikes Arizona [AZ]
---
---
2. Lage | Location
Die Pillars of Hercules stehen in der Moenkopi Wash (Hopi Reservation), östlich von Tuba City und Moenkopi, Arizona.
3. Anfahrt | Getting there
Sie können die Pillars of Hercules über die 160er oder von der 264er erreichen.
Fahren Sie von Tuba City die 160er nach Osten und biegen Sie bei Tonalea nach 22,4 Meilen, gemessen von der Kreuzung 264/160 in Tuba City, rechts in die Dirtroad ein (GPS-Koordinaten siehe oben). Oder fahren Sie von Tuba auf der 264 nach Süden und biegen Sie nach 33,2 Meilen nach links in die Dirtroad ein (GPS-Koordinaten siehe oben).
Wenn Sie von Norden kommen, dann sind es 16,37 Meilen bis zum Parkplatz und Trailhead (GPS-Koordinaten siehe oben). Wenn Sie die südliche Anfahrt nehmen, dann sind es 14,66 Meilen. Die Anfahrt von Süden ist in der Regel die bessere Variante.
Hinweis: Sie kommen am sogenannten Blue Canyon vorbei (siehe Hike und Bilder).
4. Wanderung | Hike
Bereits vom Parkplatz sehen Sie im Süden die gigantischen Felssäulen. Steigen Sie vom Parkplatz in die kleine Seitenwash ab und gehen Sie rechts orientiert in der Moenkopi Wash auf die gegenüberliegende Seite. Dort, wo das Gebüsch endet, gehen Sie am Rand der Wash nach links, also in das Buschwerk rein. Bleiben Sie am Rand und suchen Sie sich einen geeigneten Aufstieg.
Oben angekommen sind es praktisch nur noch ein paar Meter zum Canyonabbruch. Dort steht hoch oben der schönste Hoodoo, rechts um die Ecke finden Sie mehrere, auch sehr große Pillars. In Verbindung mit dem Blue Canyon ein sehr lohnendes Ziel.
5. Topographische Karten | Topographic Maps
TOPO! ©2011 National Geographic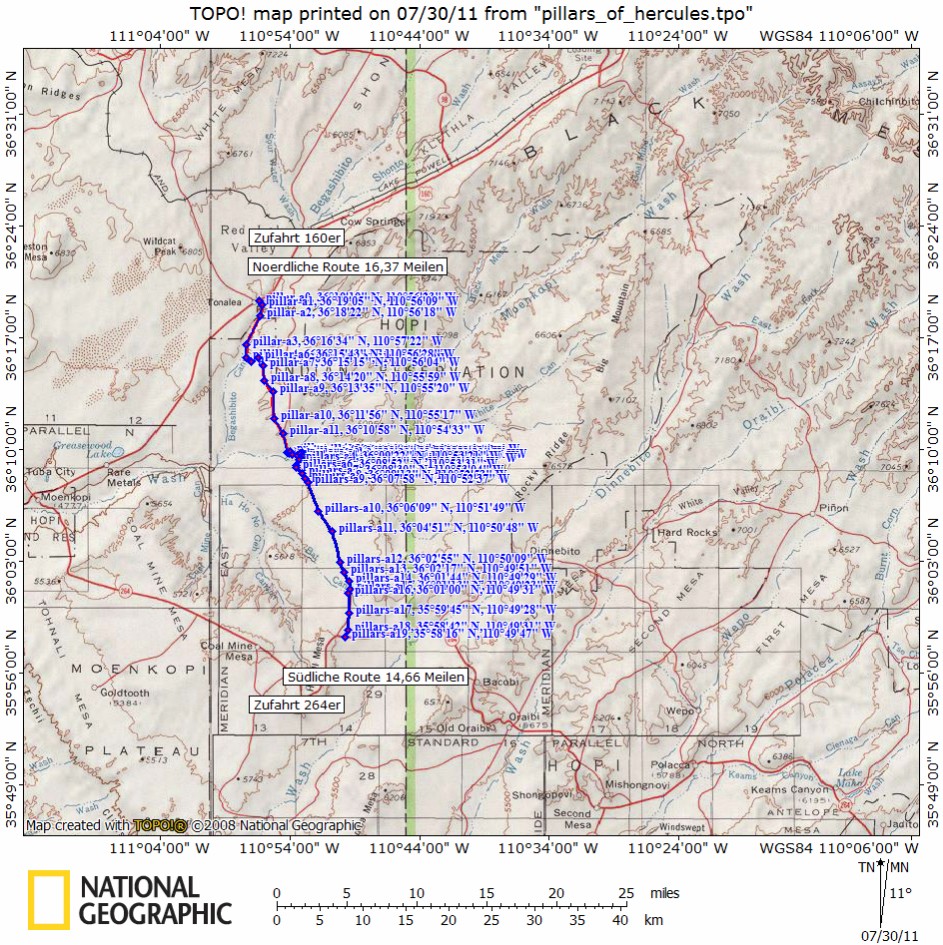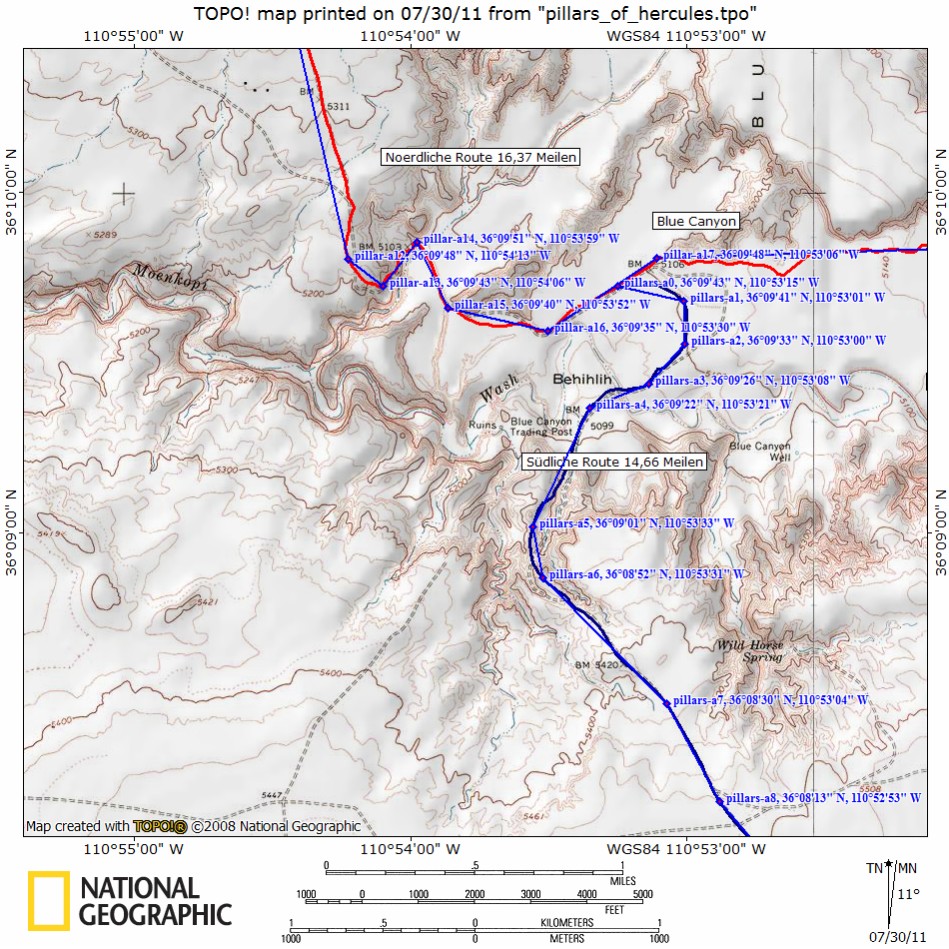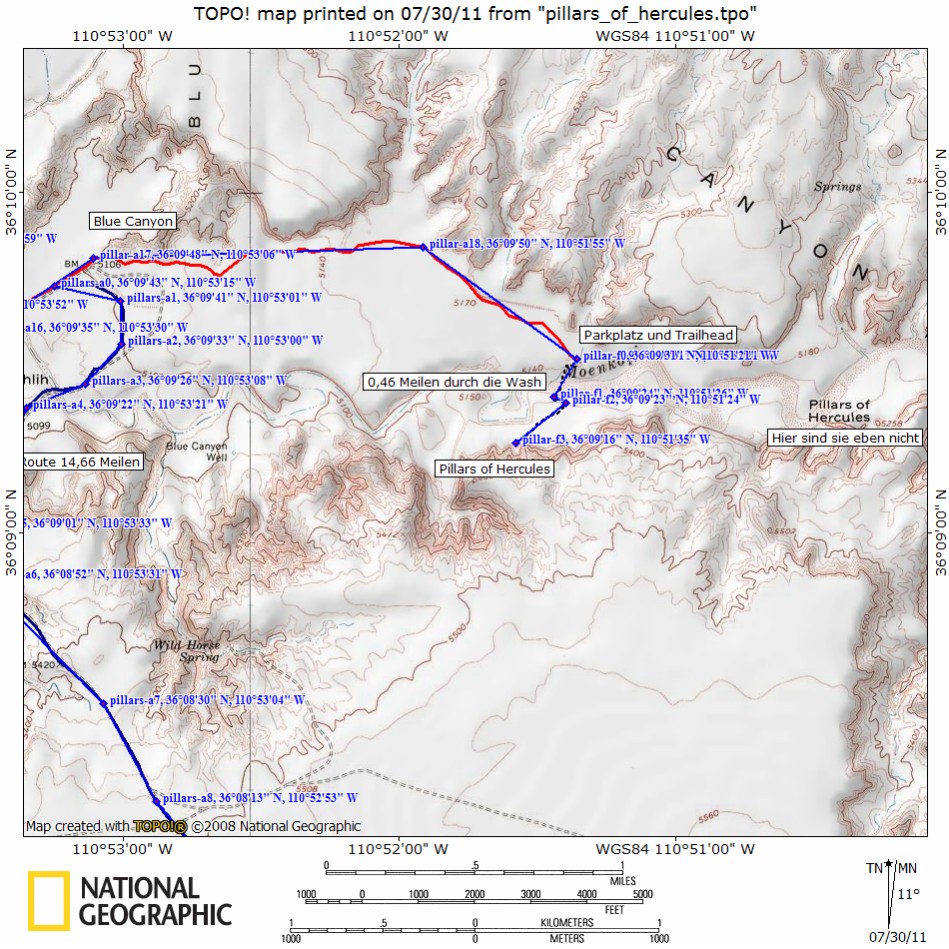 6. Kommentare | Comments
Bitte kommentiere die Wanderung für andere Hiker - danke!
Please write a comment for other hikers - thank you!