USA Wanderung - USA Hike
Riverbottom Trail [Fort Worth Nature Center and Refuge]
1. Datenblatt | Data sheet
| | |
| --- | --- |
| Bewertung | Rating | |
| US-Bundesstaat | US-State | Texas [TX] |
| Anfahrt | Getting there | PKW | Car |
| Schwierigkeitsgrad | Difficulty | leicht | easy |
| Zeitaufwand | Hiking time | keine Stunde |
| Länge | Distance | 0,81 Meilen = 1,30 km |
| GPS-Koordinaten | GPS-coordinates (WGS84/NAD83) | |
| - Parkplatz und Trailhead: | 32°50'47''N - 97°28'30''W |
| Routen und Wegpunkte | Routes and waypoints (*.gpx) | Download *.gpx |
| Beste Zeit Foto | Best time picture | vormittags oder nachmittags |
| Mehr Bilder | More images | Bilder | Images |
| Druckversion (PDF) | Print Version (PDF) | PDF Version |
| Weitere Varianten | Alternative routes | nicht verfügbar | not available |
| Wanderungen Brennpunkt | Hiking Hotspot | nicht verfügbar | not available |
| Landkarten Navigation | Map Navigation | Map Navigation |
| Wanderungen US Staat | Hikes by US State | Hikes Texas [TX] |
---
---
2. Lage | Location
Das Fort Worth Nature Center & Refuge liegt nordwestlich Fort Worth an der West Fork of the Trinity River und des Lake Worth, Texas.
3. Anfahrt | Getting there
Nehmen Sie den Loop I-820 und verlassen Sie die I-820 am Exit Hwy 199 (Jacksboro Highway). Fahren Sie 4 Meilen nach Westen und nehmen Sie dann die Ausfahrt zur Confederate Park Rd. auf der rechten Seite. Bleiben Sie auf der Service Road. Beim Stop-Zeichen biegen Sie nach rechts ab in die Buffalo Road zum Eingang des Nature Centers. Fahren Sie die Buffalo Road bis zum Besucherzentrum oberhalb des Trinity Rivers. Rechts davon ist der Parkplatz und Trailhead (GPS-Koordinaten siehe oben).
4. Wanderung | Hike
Folgen Sie hinter dem Besucherzentrum dem Weg nach unten zum Trinity River. Es geht nach rechts bis zur Landestelle bei den Toiletten und dann wieder bergauf zum Rim. Der führt nach rechts zurück zum Besucherzentrum.
5. Topographische Karten | Topographic Maps
TOPO! ©2011 National Geographic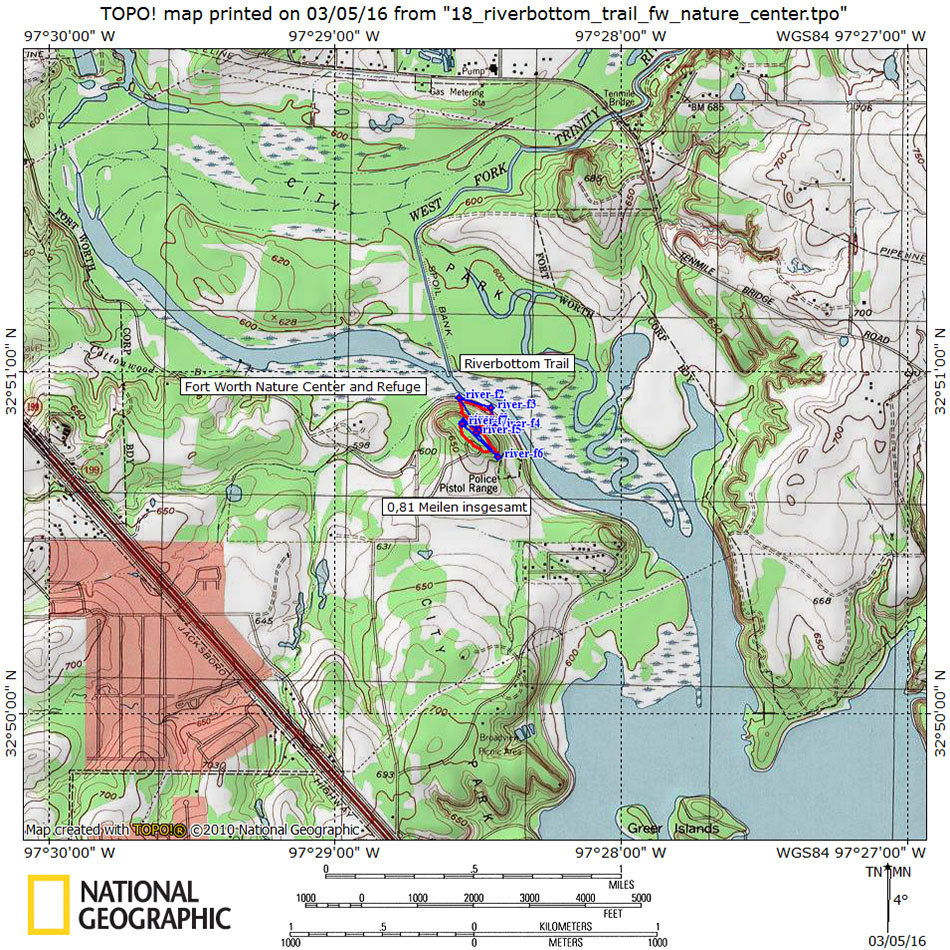 6. Kommentare | Comments
Bitte kommentiere die Wanderung für andere Hiker - danke!
Please write a comment for other hikers - thank you!