USA Wanderung - USA Hike
Serendipity Twin Bridges, Heart of Aztec Arch und Enterprise Arch
1. Datenblatt | Data sheet
Bewertung | Rating

US-Bundesstaat | US-State

New Mexico [NM]

Anfahrt | Getting there

Hohe Bodenfreiheit | High Clearance

Schwierigkeitsgrad | Difficulty

leicht | easy

Zeitaufwand | Hiking time

1 - 2 Stunden

Länge | Distance

1 Meile = 1,6 km

GPS-Koordinaten | GPS-coordinates (WGS84/NAD83)

- Abzweigung von NM 173:
- Parkplatz und Trailhead:
- Serendipity Twin Bridges:
- Heart of the Aztec Arch:
- Enterprise Arch:
36°47'50''N - 107°50'54''W
36°47'09''N - 107°51'26''W
36°46'55''N - 107°51'14''W
36°47'06''N - 107°51'14''W
36°47'12''N - 107°51'22''W



Routen und Wegpunkte | Routes and waypoints (*.gpx)


Download *.gpx

Beste Zeit Foto | Best time picture

nachmittags

Mehr Bilder | More images

Bilder | Images
Bilder | Images
Bilder | Images

Druckversion (PDF) | Print Version (PDF)

PDF Version

Weitere Varianten | Alternative routes

nicht verfügbar | not available

Wanderungen Brennpunkt | Hiking Hotspot

Hiking Hotspot

Landkarten Navigation | Map Navigation

Map Navigation

Wanderungen US Staat | Hikes by US State

Hikes New Mexico [NM]
---
---
2. Lage | Location
Die drei Arche liegen im Slane Canyon, an der New Mexico Highway 173, südöstlich von Aztec, New Mexico.
3. Anfahrt | Getting there
Sie fahren in Aztec auf die "Arch-Highway" 173 und biegen nach gut 8 Meilen auf die ungeteerte Dirtroad ein (GPS-Koordinaten siehe oben). Nachdem das alles hier Gasfördergebiet ist, sind die ungeteerten Straßen in der Regel und bei Trockenheit gut gepflegt und befahrbar, so dass es mit einem PKW ok ist. Nach gut einer Meile sind Sie an einer der vielen Gasförderstationen gelandet und parken hier Ihr Auto (GPS-Koordinaten siehe oben).
4. Wanderung | Hike
Auf sandigem Boden geht es in südlicher Richtung auf einen Zaun zu, den Sie übersteigen. Rund eine halbe Meile sind Sie unterwegs, bis Sie auf das erste Highlight, die Serendipity Twin Bridges treffen (GPS-Koordinaten siehe oben). Ab hier geht es zurück Richtung Norden bis zum Heart of the Aztec Arch (GPS-Koordinaten siehe oben), ein kleines Pothole, auf das Sie auch steigen können (links herum geht es hinauf). Bevor Sie nun zum Auto zurückkehren, besuchen Sie noch den Enterprise Arch (GPS-Koordinaten siehe oben). Ein kleiner, moderater Hike und drei Arche, - was will man mehr?
5. Topographische Karten | Topographic Maps
TOPO! ©2011 National Geographic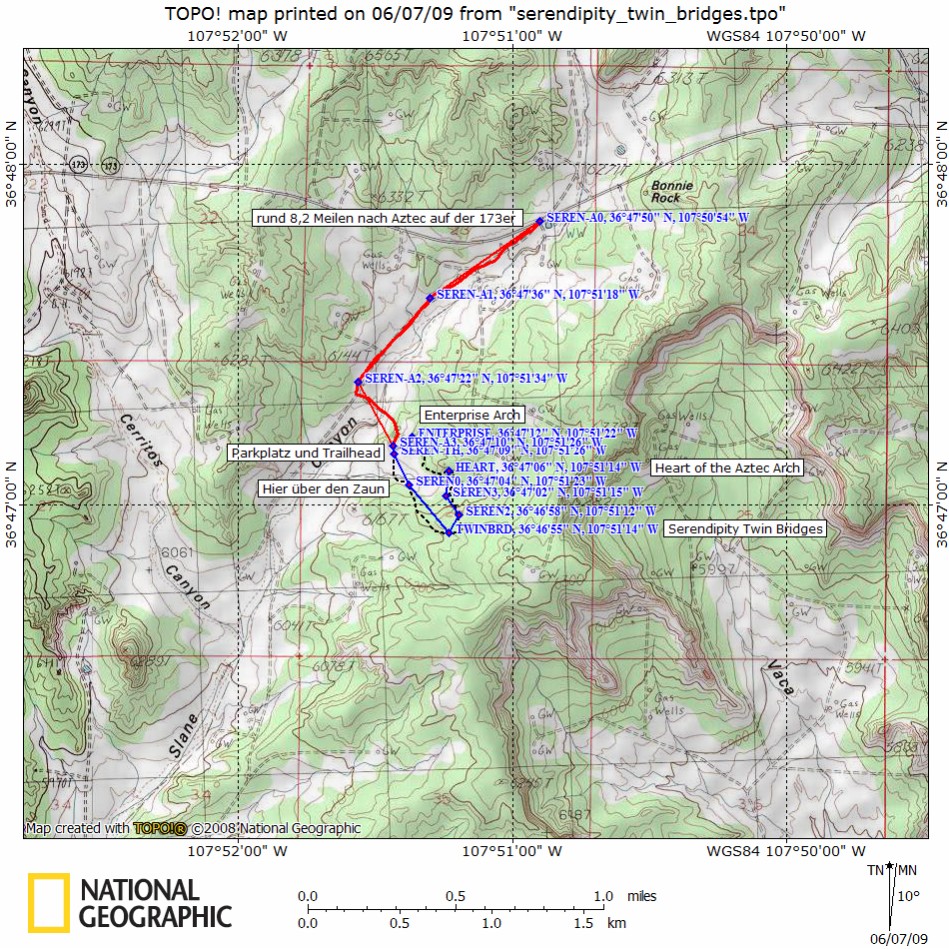 6. Kommentare | Comments
Bitte kommentiere die Wanderung für andere Hiker - danke!
Please write a comment for other hikers - thank you!