USA Wanderung - USA Hike
Seven Sacred Pools - Pools of Ohe'o [Maui - Hawaii]
1. Datenblatt | Data sheet
| | |
| --- | --- |
| Bewertung | Rating | |
| US-Bundesstaat | US-State | Hawaii [HI] |
| Anfahrt | Getting there | PKW | Car |
| Schwierigkeitsgrad | Difficulty | leicht | easy |
| Zeitaufwand | Hiking time | keine Stunde |
| Länge | Distance | 0,51 Meilen = 0,82 km |
| GPS-Koordinaten | GPS-coordinates (WGS84/NAD83) | |
| - Parkplatz und Trailhead: | 20°39'44''N - 156°02'43''W |
| Routen und Wegpunkte | Routes and waypoints (*.gpx) | Download *.gpx |
| Beste Zeit Foto | Best time picture | nachmittags |
| Mehr Bilder | More images | Bilder | Images |
| Druckversion (PDF) | Print Version (PDF) | PDF Version |
| Weitere Varianten | Alternative routes | nicht verfügbar | not available |
| Wanderungen Brennpunkt | Hiking Hotspot | nicht verfügbar | not available |
| Landkarten Navigation | Map Navigation | Map Navigation |
| Wanderungen US Staat | Hikes by US State | Hikes Hawaii [HI] |
---
---
2. Lage | Location
Die Seven Sacred Pools (Pools of Ohe'o) liegen in der Ohe'o Gulch, im Haleakala National Park (hier ohne Eintritt), an der South Hana Road, am südöstlichen Ende der Insel Maui, Hawaii.
3. Anfahrt | Getting there
Fahren Sie von Kahului auf den Highway 36 (Hana Road). Es gibt nun zwei Möglichkeiten:
1. Sie biegen nach rund 3 Meilen rechts auf den Highway 37, den sogenannten Haleakala Highway ab, nach zirka 7,7 Meilen geht es gerade aus weiter (nicht auf den Krater fahren) auf den Kula Highway, der dann zum Piilani Highway wird und dann auf die South Hana Road trifft. Die Straße wird die letzten 7 Meilen ziemlich schlecht. Hier sind Sie ungefähr 50 Meilen unterwegs, für die Sie mindestens 2,5 Stunden brauchen. Sie umrunden quasi den Heleakala Krater gegen den Uhrzeigersinn.
2. Sie fahren die Road to Hana weiter bis zum Ziel. Hier sind Sie über 57,5 Meilen und mindestens 3,5 Stunden unterwegs. Diese Strecke ist sehr kurvenreich und sehr frequentiert. Sie umrunden quasi den Heleakala Krater im Uhrzeigersinn.
Der Parkplatz und Trailhead befindet sich am Visitor Center (GPS-Koordinaten siehe oben).
4. Wanderung | Hike
Der Trail zu den Pools of Oheo, den Seven Sacred Pools, beginnt am östlichen Ende des Parkplatzes. Menschenmassen erfreuen sich dieser schönen Umgebung und des Wassers. In den Pools kann man wunderbar baden. Am Ende der Poollandschaft thront eine Brücke. Sie ist Teil der Road to Hana und vom Trail aus kommt man dank eines Maschendrahtzaunes nicht hin. Schade, der Über- und Weitblick wäre sicher sehr gut gewesen.
5. Topographische Karten | Topographic Maps
TOPO! ©2011 National Geographic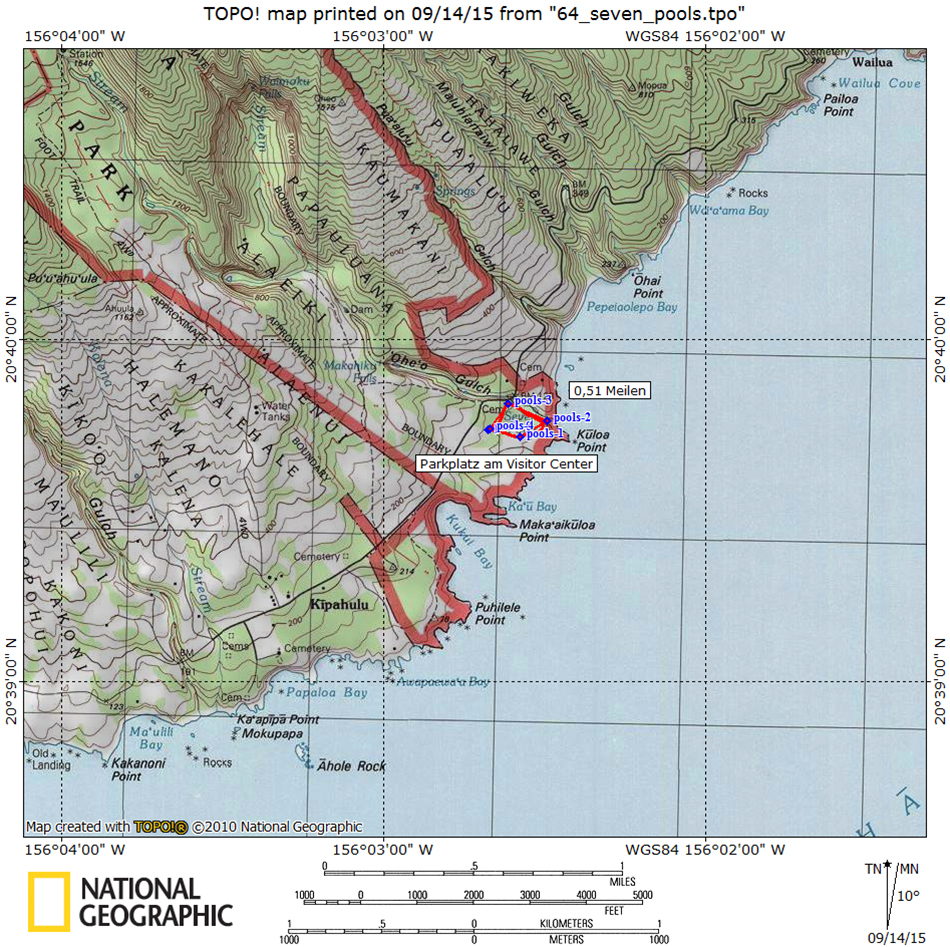 6. Kommentare | Comments
Bitte kommentiere die Wanderung für andere Hiker - danke!
Please write a comment for other hikers - thank you!