USA Wanderung - USA Hike
Story in Stone Trail
[John Day Fossil Beds National Monument - Sheep Rock Unit]
1. Datenblatt | Data sheet
| | |
| --- | --- |
| Bewertung | Rating | |
| US-Bundesstaat | US-State | Oregon [OR] |
| Anfahrt | Getting there | PKW | Car |
| Schwierigkeitsgrad | Difficulty | leicht | easy |
| Zeitaufwand | Hiking time | keine Stunde |
| Länge | Distance | 0,37 Meilen = 0,60 km |
| GPS-Koordinaten | GPS-coordinates (WGS84/NAD83) | |
| - Parkplatz und Trailhead: | 44°39'08''N - 119°38'24''W |
| Routen und Wegpunkte | Routes and waypoints (*.gpx) | Download *.gpx |
| Beste Zeit Foto | Best time picture | nachmittags |
| Mehr Bilder | More images | Bilder | Images |
| Druckversion (PDF) | Print Version (PDF) | PDF Version |
| Weitere Varianten | Alternative routes | nicht verfügbar | not available |
| Wanderungen Brennpunkt | Hiking Hotspot | nicht verfügbar | not available |
| Landkarten Navigation | Map Navigation | Map Navigation |
| Wanderungen US Staat | Hikes by US State | Hikes Oregon [OR] |
---
---
2. Lage | Location
Die Sheep Rock Unit des John Day Fossil Beds National Monument liegt westlich von John Day, Oregon.
3. Anfahrt | Getting there
Fahren Sie von John Day auf der US 26, John Day Highway, nach Westen am John Day River entlang. Nehmen Sie, nachdem Sie bereits in der Sheep Rock Unit angekommen sind, die OR 19 und folgen Sie weiter dem John Day River. Nach 47,6 Meilen fahren Sie nach rechts auf den Parkplatz der Trails "Story in Stone" und "Flood of Fire" (GPS-Kooordinaten siehe oben).
4. Wanderung | Hike
Es sind nur ein paar Meter, um in die Geologie des National Monuments einzutauchen. Am gleichen Trailhead beginnt der Flood of Fire Trail.
5. Topographische Karten | Topographic Maps
TOPO! ©2011 National Geographic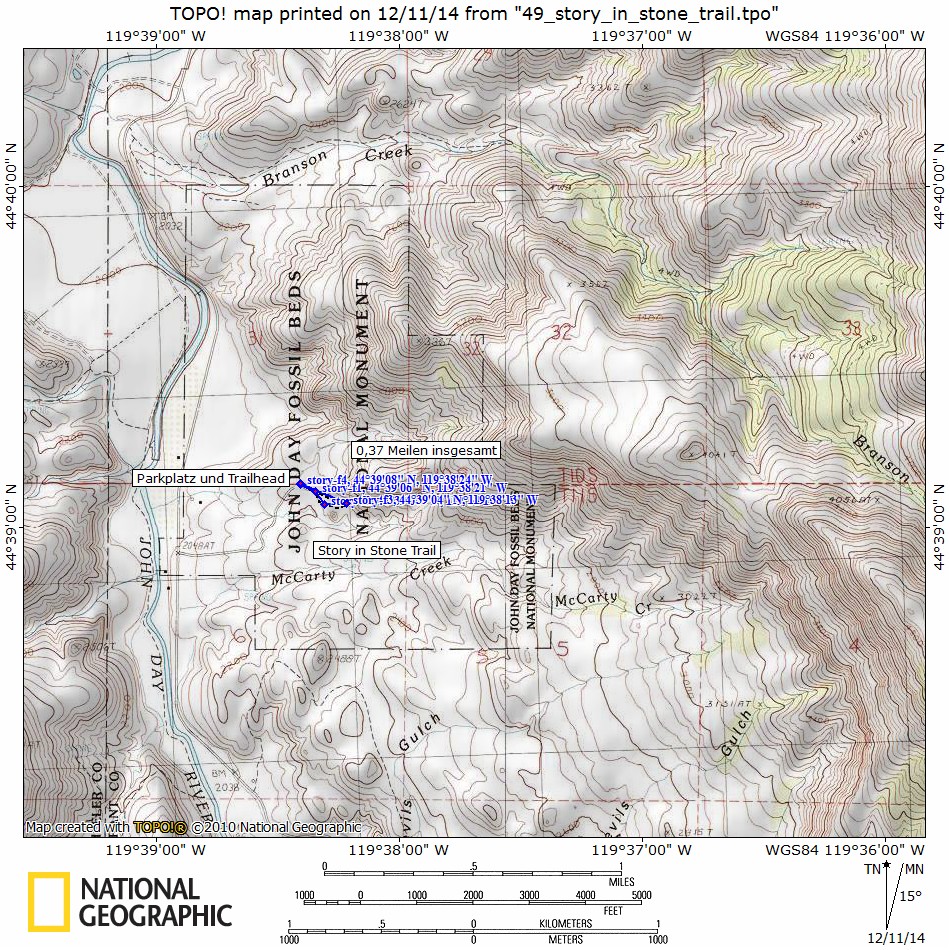 6. Kommentare | Comments
Bitte kommentiere die Wanderung für andere Hiker - danke!
Please write a comment for other hikers - thank you!