USA Wanderung - USA Hike
Warner Point [Black Canyon of the Gunnison National Park]
1. Datenblatt | Data sheet
Bewertung | Rating

US-Bundesstaat | US-State

Colorado [CO]

Anfahrt | Getting there

PKW | Car

Schwierigkeitsgrad | Difficulty

leicht | easy

Zeitaufwand | Hiking time

1 - 1,5 Stunden

Länge | Distance

1,46 Meilen = 2,35 km

GPS-Koordinaten | GPS-coordinates (WGS84/NAD83)

- Parkplatz und Trailhead:
- Warner Point:
38°33'45''N - 107°44'31''W
38°34'01''N - 107°45'03''W




Routen und Wegpunkte | Routes and waypoints (*.gpx)


Download *.gpx

Beste Zeit Foto | Best time picture

mittags bis nachmittags

Mehr Bilder | More images

Bilder | Images

Druckversion (PDF) | Print Version (PDF)

PDF Version

Weitere Varianten | Alternative routes

nicht verfügbar | not available

Wanderungen Brennpunkt | Hiking Hotspot

nicht verfügbar | not available

Landkarten Navigation | Map Navigation

Map Navigation

Wanderungen US Staat | Hikes by US State

Hikes Colorado [CO]
---
---
2. Lage | Location
Der Black Canyon of the Gunnison National Park liegt westlich von Gunnison, südöstlich von Delta und östlich von Montrose in Colorado.
3. Anfahrt | Getting there
Fahren Sie auf der US 50 bis zur Abzweigung der CO 347 und folgen Sie dieser Straße 13,1 Meilen bis zum Ende der südlichen Parkstraße zum Trailhead (GPS-Koordinaten siehe oben).
4. Wanderung | Hike
Am Ende der südlichen Parkstraße, am sogenannten High Point, starten Sie Ihre Wanderung auf dem Warner Point Trail. Es beginnt ein kleiner, aber sehr schöner 1,5-Meilen-Trip. Die Tafeln, auf denen abgestorbene Bäume erklärt werden, interessieren Sie vielleicht.
Die Ausblicke konzentrieren sich zwar auf den Black Canyon, jedoch sieht man auch in die anderen Himmelsrichtungen. Die Ebene ist weit und wie mit Samt bezogen. Die Hügel und das Grasland sind schön. Als Sie oben am Ende des Wanderweges stehen, werden Sie vielleicht denken, dass sich hier der beste Blick in den Canyon zeigt.
5. Topographische Karten | Topographic Maps
TOPO! ©2011 National Geographic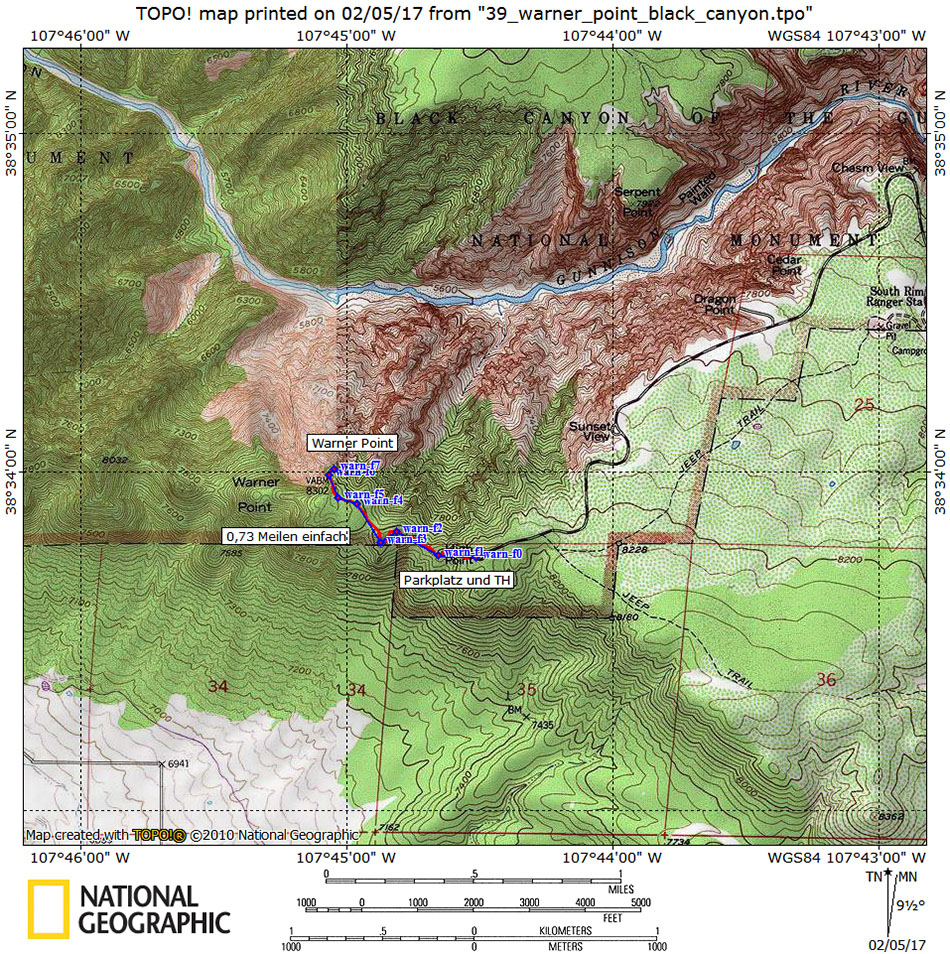 6. Kommentare | Comments
Bitte kommentiere die Wanderung für andere Hiker - danke!
Please write a comment for other hikers - thank you!