USA Wanderung - USA Hike
Window Trail [Badlands National Park]
1. Datenblatt | Data sheet
| | |
| --- | --- |
| Bewertung | Rating | |
| US-Bundesstaat | US-State | South Dakota [SD] |
| Anfahrt | Getting there | PKW | Car |
| Schwierigkeitsgrad | Difficulty | leicht | easy |
| Zeitaufwand | Hiking time | 0,5 Stunden |
| Länge | Distance | 0,24 Meilen = 0,39 km |
| GPS-Koordinaten | GPS-coordinates (WGS84/NAD83) | |
| - Parkplatz und Trailhead (Door and Window Parking Area): | 43°45'36''N - 101°55'41''W |
| Routen und Wegpunkte | Routes and waypoints (*.gpx) | Download *.gpx |
| Beste Zeit Foto | Best time picture | nachmittags |
| Mehr Bilder | More images | Bilder | Images |
| Druckversion (PDF) | Print Version (PDF) | PDF Version |
| Weitere Varianten | Alternative routes | nicht verfügbar | not available |
| Wanderungen Brennpunkt | Hiking Hotspot | nicht verfügbar | not available |
| Landkarten Navigation | Map Navigation | Map Navigation |
| Wanderungen US Staat | Hikes by US State | Hikes South Dakota [SD] |
---
---
2. Lage | Location
Die "Door and Window Parking Area" liegt im Badlands National Park, östlich von Rapid City, South Dakota.
3. Anfahrt | Getting there
Fahren Sie von Rapid City auf der Interstate 90 nach Osten und nehmen Sie den Exit 131, Cactus Flat. Fahren Sie die SD 240 nach Süden in den Park (Eintritt) und parken Sie 6,1 Meilen nach der Ausfahrt an der "Door and Window Parking Area". Dieser riesige Parkplatz ist Ihr Trailhead (GPS-Kooordinaten siehe oben).
4. Wanderung | Hike
Der Window Trail beginnt am südlicheren Ende des Parkplatzes. Dieser kurze Weg führt über Holzstege zu einem natürlichen Fenster in der Badlands Wall mit Blick auf eine kunstvoll erodierte Schlucht, den Badlands.
5. Topographische Karten | Topographic Maps
TOPO! ©2011 National Geographic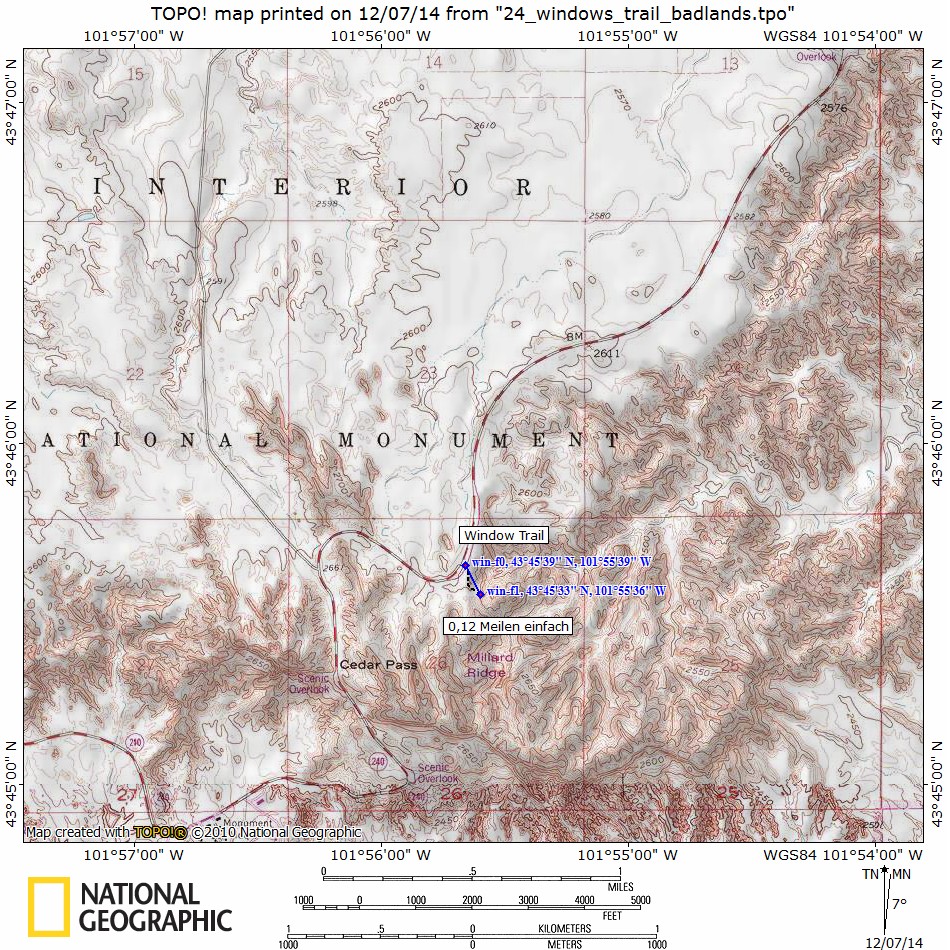 6. Kommentare | Comments
Bitte kommentiere die Wanderung für andere Hiker - danke!
Please write a comment for other hikers - thank you!