USA Wanderung - USA Hike
Fire Wave aka. Rainbow Wave [Valley of Fire]
Weitere Variante:
Valley of Fire - Zwei Hikes [Rainbow Vista]

1. Datenblatt | Data sheet
Bewertung | Rating

US-Bundesstaat | US-State

Nevada [NV]

Anfahrt | Getting there

PKW | Car

Schwierigkeitsgrad | Difficulty

leicht | easy

Zeitaufwand | Hiking time

1 - 1,5 Stunden

Länge | Distance

0,8 Meilen = 1,29 km

GPS-Koordinaten | GPS-coordinates (WGS84/NAD83)

- Trailhead:
- Fire Wave aka. Rainbow Wave:
36°28'47''N - 114°31'36''W
36°28'58''N - 114°31'21''W



Routen und Wegpunkte | Routes and waypoints (*.gpx)


Download *.gpx

Beste Zeit Foto | Best time picture

nachmittags, aber Achtung, wenn sie zu spät sind, erwischen Sie die Wave nur noch im Schatten. Aber das hat sicher auch was.

Mehr Bilder | More images

Bilder | Images

Druckversion (PDF) | Print Version (PDF)

PDF Version

Weitere Varianten | Alternative routes

nicht verfügbar | not available

Wanderungen Brennpunkt | Hiking Hotspot

Hiking Hotspot

Landkarten Navigation | Map Navigation

Map Navigation

Wanderungen US Staat | Hikes by US State

Hikes Nevada [NV]
---
---
2. Lage | Location
Die Fire Wave, auch bekannt als Rainbow Wave, liegt im Valley of Fire State Park, nahe Las Vegas, in Nevada.
3. Anfahrt | Getting there
Von Las Vegas fährt man 35 Meilen (56,3 km) auf der Interstate 15 nach Nordosten in Richtung Salt Lake City. Am Exit 75 verlassen sie die Interstate und fahren weitere 12,18 Meilen (19,6 km) nach Südosten den Valley of Fire Highway 169 zum State Park. Fahren Sie auf der Parkroad bis zur Abzweigung zum Visitor Center und dann weiter Richtung Rainbow Vista bis zum Trailhead (GPS-Koordinaten siehe oben). Parken Sie neben der Straße an der Wash, wobei dort das Parken eigentlich nicht erlaubt ist. Ein Stück weiter ist aber der offizielle Parkplatz. Beginnen Sie aber trotzdem Ihre Wanderung über die Wash, da es dort landschaftlich sehr schön ist.
4. Wanderung | Hike
Folgen Sie nun nach Osten der Wash bis zur Fire Wave (GPS-Koordinaten siehe oben) durch diese unverwechselbare und besonders schöne Landschaft. Die Felsen sind rot, lila, gelb und weiß, es ist wirklich ein Traum.
5. Topographische Karten | Topographic Maps
TOPO! ©2011 National Geographic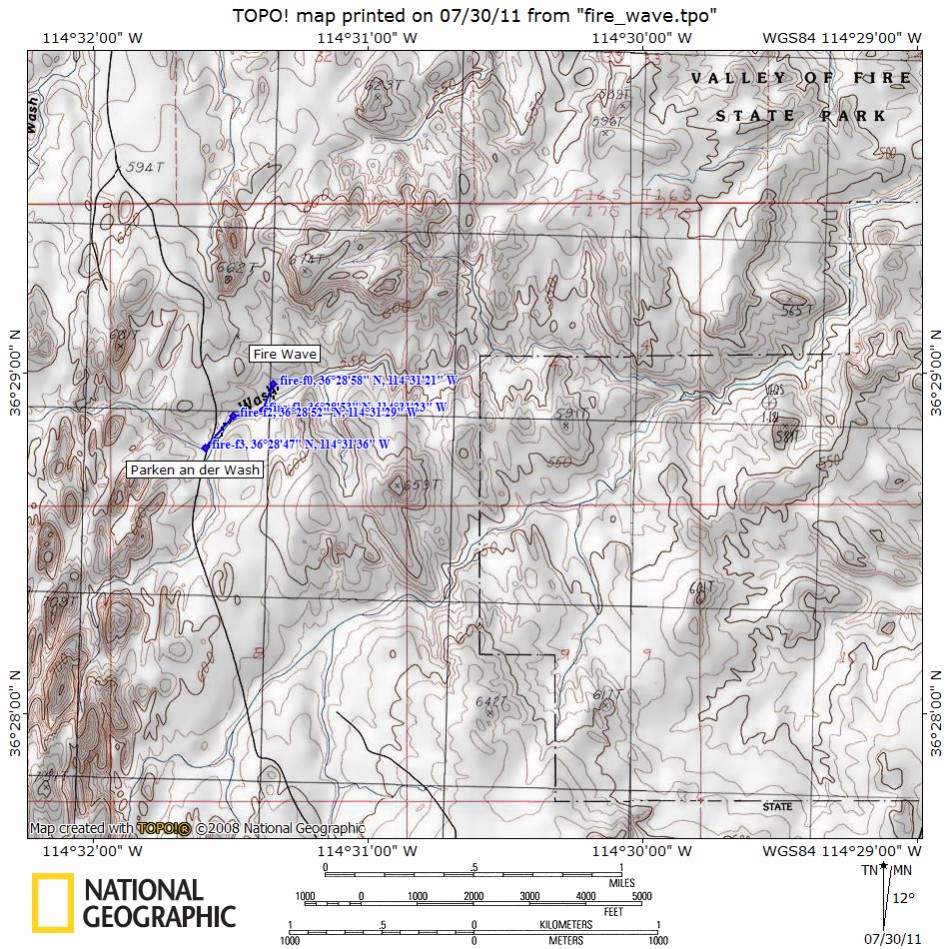 6. Kommentare | Comments
Bitte kommentiere die Wanderung für andere Hiker - danke!
Please write a comment for other hikers - thank you!